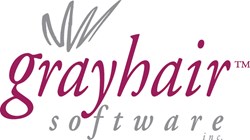 #CreateADifference at #DMA13
Mount Laurel, NJ and Chicago, IL (PRWEB) October 12, 2013
GrayHair Software, Inc., a leader in solutions for business mailers, announces at this year's DMA13 event in Chicago, IL, from October 12-17 it will be doing the first-of-its-kind, in-booth crowdsourced painting for charity. In tandem with the Infant Welfare Society of Chicago (IWS), the company invites all attendees, exhibitors and event staff to make their marks on a large canvas in the company's booth at the show. For each participant, GrayHair will donate to the Infant Welfare Society. This in-booth event carries forward the company's tradition of teaming these unique events with donations to local charities. The Infant Welfare Society provides an expanding array of health care and supportive services for Chicago's low-income, uninsured women, children and infants.
"GrayHair provides our customers over 20 billion touch-points each year making a difference in their marketing efforts. We want to translate these touch-points into an in-booth activity that everyone will enjoy and by the end of the show a real piece of art is created. Being a former Chicago native, I know that many groups in the city are underserved and to help them in such a beautiful fashion is going to be wonderful, " states Jeff Stangle, Vice President of Solutions Engagement.
GrayHair is built on its constant stream of innovative services and applications – from its ground-breaking tradeshow events that included the first Smart Car, Willy Wonka®-style Golden Pen in the show bag giveaway and its now-famous, in-booth puppy adoptions to its ability to deliver services that 'Turn Data into Decisions'. This year's event will be no different and will focus on how GrayHair's services provide clients the ability to create a noticeable difference in their direct marketing operation. The company's cloud platform, SelectSolutions™ provides access to advanced address technology and business rules, global mail processing, in-depth postal consulting, unique new movers' lists and the nation's leading USPS® mail and parcel tracking and analysis.
Infant Welfare Society of Chicago Auxiliary President Pat Danly says the organization is pleased to be a part of GrayHair Software's "Painting for Charity" program. "This innovative, artistic and imaginative project presents attendees, exhibitors and event staff with an opportunity to make their own distinctive brush marks on the canvas -- all while raising awareness of IWS and its important work on behalf of the city's women and children in need. We appreciate the support of GrayHair Software, and we look forward to seeing the finished 'masterpiece'!"
The DMA13 event (http://www.DMA13.org), which is the country's largest gathering of direct marketing experts, fits perfectly into the other theme happening in the city, Chicago Artists Month. Attendees to the event will be encouraged to make their mark then post it to their social media pages (using #CreateADifference). GrayHair will also be forgoing their regular tradeshow booth for a booth constructed out of furniture and items that will be donated back to the IWS and given to families in need. This event is another opportunity to show why the company is a leader in hands-on support of not only its clients' needs, but in the well-being of the most important things in life.
About GrayHair Software, Inc.
GrayHair Software, Inc. is an innovator and industry leader in the development of applications and services that improve and automate the management of business mail. GrayHair's offerings are delivered via SelectSolutions™, a cloud-based platform that merges Software as a Service with managed services. This customizable set of critical mailing services includes enterprise-wide Intelligent Mail® barcode assignment, trusted third-party mail tracking, address quality, presort analysis, postage reconciliation, mail monitoring, consulting and global mail services. GrayHair offers consulting services through its GrayHair Advisors division, which provides independent and unbiased guidance on mail-related strategic issues.
For more information, visit http://www.GrayHairSoftware.com and http://www.GrayHairAdvisors.com.
About the Infant Welfare Society of Chicago
Founded in 1911 with a mission to provide fresh milk in response to high infant mortality rates, Infant Welfare Society (IWS) of Chicago now provides an array of services to women and children of Chicago's working poor through its Logan Square clinic. Medical services include pediatric medicine, dentistry and optometry, child and adolescent mental health counseling, early child development assessment and literacy support. For women, the agency offers prenatal family planning, preventative care and management of chronic diseases.
For more information, visit http://www.InfantWelfareSociety.org.