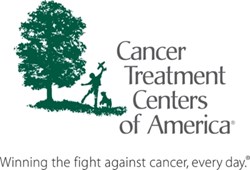 Zion, IL (PRWEB) October 11, 2013
Cancer Treatment Centers of America (CTCA) at Midwestern Regional Medical Center (Midwestern) has been awarded a three-year term of accreditation in radiation oncology and imaging as the result of a recent review by the American College of Radiology (ACR). Oncologists rely on radiation therapy, the careful use of high-energy radiation, to treat cancer, or relieve pain.
With nearly 500 accredited sites and 25 years of accreditation experience, the ACR is the nation's oldest and most widely accepted radiation oncology accrediting body. The ACR seal of accreditation represents the highest level of quality and patient safety, awarded only to facilities meeting specific Practice Guidelines and Technical Standards developed by ACR after peer-review evaluations conducted by expert board-certified radiation oncologists and medical physicists.
"Being awarded accreditation in radiation oncology and imaging by the nation's leading experts solidifies our commitment to deliver high-quality care and exceeding patient safety standards," said Scott Jones, President and CEO at CTCA at Midwestern.
"As CTCA at Midwestern is located just over the border in Zion, Illinois and many of our employee stakeholders live in Wisconsin and certainly we serve many oncology patients who live in Wisconsin, this accreditation is a powerful reflection of our health care team and commitment to our patients who can be rest assured they are receiving radiation treatment with state-of-the-art equipment and a top-rated medical team that treats the whole patient body, mind and soul."
Radiation oncologists at CTCA at Midwestern use image guidance before and during radiation treatment to provide a highly targeted approach that helps minimize the side effects commonly associated with standard radiation treatment. By implementing the most advanced and accurate radiation technology available, radiation oncologists can aggressively attack the disease. The Department of Radiation Oncology also works hand-in-hand with the patient care team to improve quality of life through integrative oncology services such as acupuncture, mind body medicine, nutrition, naturopathic and oncology rehabilitation services.
The CTCA accreditation in radiation oncology provides patients with accessible award winning cancer care. For more information about ACR, visit http://www.acr.org.
American College of Radiology®
The ACR is a national professional organization serving more than 36,000 diagnostic/interventional radiologists, radiation oncologists, nuclear medicine physicians, and medical physicists with programs focusing on the practice of medical imaging and radiation oncology and the delivery of comprehensive health care services.
About Cancer Treatment Centers of America®
Cancer Treatment Centers of America (CTCA) at Midwestern Regional Medical Center (Midwestern) is a 73-bed specialty hospital dedicated to treating patients battling advanced and complex cancer. CTCA at Midwestern is nationally recognized for providing innovative and individualized cancer care and has been designated by the National Quality Measures for Breast Centers Program (NQMBC®) as a Certified Quality Breast Center of Excellence™, ranking the hospital among the top centers in the country for quality breast cancer treatments. CTCA at Midwestern is the only Certified Breast Center of Excellence in Illinois, and one of only 42 nationally. As a member of the National Marrow Donor Program (NMDP) the hospital also offers a Stem Cell Transplant and Cell Therapy program that provides a full spectrum of transplantation services and advanced treatment options for hematologic cancers. CTCA at Midwestern is proud to use the latest technology to offer advanced treatment for cancer and is currently one of only a few hospitals in the nation to combine recent advances in brain mapping and navigation to perform minimally invasive brain surgery on hard to reach brain tumors.