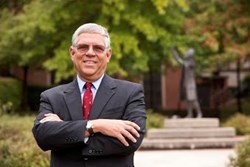 Wilmore, KY (PRWEB) October 13, 2013
Asbury Theological Seminary Professor, Dr. Ben Witherington III, Jean R. Amos Professor of New Testament for Doctoral Studies, is traveling to Rome October 24-26, 2013 for a symposium entitled The Gospels. Historical and Christological Research sponsored by the Joseph Ratzinger Benedict XVI Vatican Foundation. While the symposium is being led by members of the Roman Catholic Church, scholars from around the world have been invited to speak.
Dr. Witherington is one of only a handful of Protestant scholars who will be presenting, and the only New Testament scholar in the United States invited to speak at this prestigious event.
The conference sets out to study in depth the main themes of the thought of Josepth Ratzinger-Benedict XVI, taking its cue from his trilogy on Jesus of Nazareth, true man and true God. The three volumes were published during the period 2007-2012 while Benedict XVI was then the Roman Pontiff of the Catholic Church. Scholars and professors of different universities and Christian denominations will be gathered to study, discuss and dialogue in order to enrich the interpretation of the Gospels and to continue in the passionate search for the historical Jesus. Witherington states, "The detailed scholarly study of the historical Jesus has been going on for more than a century and a half, and it is a significant event when a theologian who has become a Pope and has now returned to his studies produces three significant books on the historical Jesus which receive critical acclaim and close study. This conference builds on that legacy while moving in new and fresh directions."
At the end of the symposium Pope Francis will be awarding the "Joseph Ratzinger" prize, in recognition of those who perform promising scholarly research relating to or expounding upon Benedict XVI's work.
Asbury Theological Seminary is pleased to have Dr. Witherington named among the scholars to present an essay and welcomes the ecumenical conversation and global perspective.
About Asbury Theological Seminary:
With multiple campuses, Asbury Theological Seminary is an interdenominational graduate school of theology committed to teaching the unchanging truth of the Bible and Scriptural holiness through the most dynamic means available. Asbury Seminary offers a variety of degrees, including the Master of Arts, Master of Divinity, Master of Theology, Doctor of Ministry and Doctor of Philosophy in intercultural studies, biblical studies. Total current enrollment nears 1,500 students, representing 93 denominations and 39 countries. For more information, please visit asburyseminary.edu.