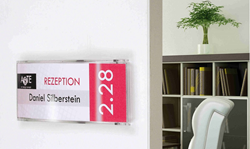 (PRWEB UK) 15 October 2013
Now available from Signbox's eshop, PixQuick is a cleverly conceived, smart looking, dust proof information display dispenser for counter top or wall mounting available in all popular 'A series' paper sizes. A simple and highly affordable solution for office signage, PixQuick will appeal equally to a host of different organisations needing to display information in a professional way such as hospitals, pubs & restaurants, museums, schools & colleges, venue owners and retail outlets.
PixQuick's frameless design gives the dispenser a stylish, contemporary appearance. The front panel can be opened in either direction for quick and easy changing of the content, so it's perfect for frequently updated information; and with prices starting at just £8 PixQuick is exceptional value too.
Signbox has been constantly upgrading and expanding its online store into a truly one-stop-shop where customers can source high quality 'off-the-shelf' signs and signage with a quick turnaround, typically within a few days from placement of order. A huge diversity of products are featured including display solutions, health & safety signs, desk and door sign dispensers, fire escape signage, paper insert dispensers, wayfinding signs. Signbox also offers new, NFC enabled smart signs and posters.
Drawing on architectural and engineering experience, Signbox develops high quality, sustainable and fully compliant signs and displays for the built environment. Signbox is an innovative company creating future-proof products for a wide range of market sectors, including corporate, education, healthcare, retail, hotel and leisure. As a single-point resource Signbox offers consultancy, signage strategy, design, manufacture, project management and installation.
Signbox's vision is to enable static signs, using NFC technology, to provide a host of interactive experiences via consumers' smartphones.