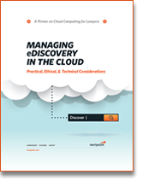 Find out why cloud computing is the only cost-effective solution for eDiscovery.
Chicago, IL (PRWEB) October 15, 2013
To help lawyers understand how to fully take advantage of cloud computing technology in litigation, Nextpoint has published a free, downloadable white paper, "Managing eDiscovery in the Cloud: Practical, Ethical, and Technical Considerations."
Click here to download the guide.
Nextpoint's free eBook walks through the technical challenges in eDiscovery and the solutions cloud technology delivers. With over a decade of real-world experience, Nextpoint knows that eDiscovery is ideally suited to maximize the benefits of cloud computing.
As the leading provider of cloud computing software for litigation, eDiscovery review, and archiving, Nextpoint is a leading authority on cloud computing in the law. As Nextpoint announced recently, the company has been awarded the U.S. Patent for using cloud technology in litigation. The company's Trial Cloud, Discovery Cloud, and Cloud Preservation services are built on the first, and only patent-protected cloud platform for the legal industry.
Download this free eBook to learn:
How Cloud Computing Works
Ethical and Legal Obligations in the Cloud
Questions to Ask Any Cloud Provider
This 11-page primer has all of the information, arguments, and data you need to understand the advantages and use cases for cloud computing software in litigation. It also includes a list of the important, technical questions to ask a potential software vendor before buying into a new service. Most importantly, you will be able to find out if they are providing true, cloud technology that fully advantage of the cloud, or offering a kludgy, compromised software solution.
Click here to download a PDF copy of this eBook.
About Nextpoint
Nextpoint provides cloud computing tools and services for legal, compliance and regulatory needs. The Nextpoint platform is an on-demand, multi-tenant suite of software-as-a-service products that are transforming the way corporations, governments and lawyers collaborate and manage electronic data. Nextpoint manages terabytes of data for hundreds of large corporate customers across the nation and law firms of all sizes, from solo practitioners to the AmLaw 200.