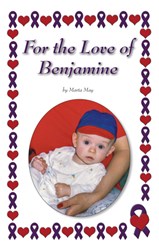 Petaluma, California (PRWEB) October 15, 2013
"For the Love of Benjamine" will help everyone by teaching them to recognize abuse. It becomes a manual about what to do next to end it successfully. It offers a list of organizations and resources available to help.
Because of the recent and numerous news headlines about domestic violence, our country recognizes the importance of educating the public, especially young adults.
The book focuses on a true story of a woman who had lived several years in a violent marriage. She had a young son whom she did not want to grow up normalizing nor living with the abuse. She rebelled, filed for a divorce, secured a restraining order against her husband and was able to bring up her son "abuse free."
Seventeen years later, this book proves that there is a fabulous life after abuse. It is not easy to fight the fear and take the first step towards freedom but the rewards are immeasurable.
Marta is now a Volunteer Community Advocate for the YWCA. She continues to give recognition to the problem through her public speaking and is donating one dollar from the sale of each book to the Sonoma County YWCA women's shelter and pre-school.
Abuse antidote is an organization dedicated to ending abuse in any shape or form and helping victims recover.
For additional information contact http://www.abuseantidote.com.