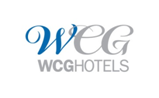 What better time of year than the holidays to thank our most valued and loyal fans
Santa Monica, CA (PRWEB) October 14, 2013
The holiday season is a time to express appreciation for friends and family through gifts and gatherings. WCG Hotels is offering their greatest discounts of the year just in time for booking that perfect Holiday getaway! For the next 12 days only, guests can book holiday travel dates for as low as $79 a night. WCG Hotels, has 21 upscale full-service, nationally branded hotels in locations such as Asheville, Atlanta, Cincinnati, Denver, Detroit, El Paso, Las Vegas, West Palm Beach, California Wine Country, Southern California, the California Bay Area, Portland, and Seattle. 17 of the WCG Hotels are Embassy Suites which offer incredible value with room for the entire family featuring two-room suites with a separate bedroom, spacious living room, sofa sleeper, refrigerator, microwave, and coffeemaker. Enjoy light snacks, soft drinks or adult beverages at the complimentary Evening Reception held nightly. Travelers will wake up to the bountiful complimentary breakfast fully cooked-to-order. As a token of WCG Hotels' appreciation, the reduced rates are available across all WCG Hotels' properties and exclusively revealed to WCG Hotels' social media followers.
"What better time of year than the holidays to thank our most valued and loyal fans," said Paul Francisco, COO and Senior Vice President of Sales & Marketing at WCG Hotels. "As a cutting-edge company, we are discovering more and more the power of social media in staying connected with our like-minded, tech savvy customers. We will continue to utilize this real time communication platform to get our most attractive offerings out to fans and followers in appreciation for their past patronage – it is only appropriate to show our gratitude with these incredible 'Holiday Deals' for the success they have helped us achieve."
The Holiday Flash Sale rates are only available to access from October 14th to October 25th. Though it is a small booking window, the savings are huge! Make a reservation at any of the 21 WCG hotels to stay between November 17th and January 5th for rates as low as $79. For more information and to book, visit the WCG Hotels Facebook page.
No matter the time of the year, all WCG Hotels offer a variety of deals and packages perfectly tailored to every traveler's interest. When it's time for a break from work, WCG Hotels will be there with unforgettable yet affordable vacation options in the Pacific Northwest, near Disneyland, California Wine Country, exciting Las Vegas, West Palm Beach, the mountains of Asheville, NC or many other fun and fabulous WCG locations!
ABOUT WINDSOR CAPITAL GROUP
Windsor Capital Group is a hotel management and development company that owns and operates full-service, focused, upscale branded hotels throughout the United States, with most flying the Embassy Suites and Marriott flags. It also runs Windsor Management Services, a top-performing hotel management company that customizes hotel management services to meet the needs of the third party hotel asset and convention center owners.
Windsor Management Services is an award winning, comprehensive hospitality management organization that operates full-service, upscale hotel properties throughout the United States. With more than 30 years of experience to call on, Windsor Management Services is known for unmatched results for its owners and unparalleled service for its guests delivered with a personal connection.
For more information visit http://www.WindsorManagementServices.com or http://www.WCGHotels.com. Additionally, please contact Paul Francisco, COO and Senior Vice President of Sales & Marketing at 310-566-1100.