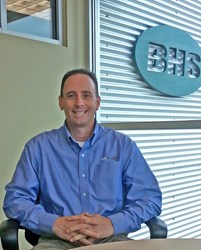 As a manager, the best part of my job was in the field, strategizing and following through on systems solutions. Now, I'll be able to do this on a daily basis, and I can't wait to hit the ground running
Eugene, OR (PRWEB) October 13, 2013
Bulk Handling Systems (BHS) has named Rich Reardon to the position of Regional Sales Manager. He will oversee BHS, Nihot and NRT product sales in the United States Southwest through Texas, as well as Western Canada. Reardon has more than six years of experience with BHS in a sales leadership function.
"Rich has a great mind for system development and has been a major factor in BHS' success over the years," said BHS CEO Steve Miller. "This is a tremendous addition to our outside sales team; Rich will provide great value to our customers in his region."
Reardon shared the excitement surrounding his new position. "I'm looking forward to the direct customer interaction. As a manager, the best part of my job was in the field, strategizing and following through on systems solutions," Reardon said. "Now, I'll be able to do this on a daily basis, and I can't wait to hit the ground running."
Bulk Handling Systems (BHS)
Headquartered in Eugene, OR, BHS is a worldwide leader in the innovative design, engineering, manufacturing and installation of sorting systems and components for the solid waste, recycling, waste-to-energy, and construction and demolition industries. Clients around the globe choose BHS because of its experience, dedication to cutting-edge technology, quality construction and durability, and unmatched customer service. BHS has built some of the biggest and most durable MRFs in the world – and they are achieving the highest throughput, recovery, and purity rates in the industry.