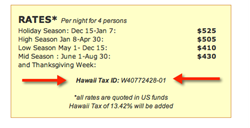 We also want all of our potential guests to know and easily see that the rental they are considering for their Maui Vacation is legal, legitimate and plays fairly.
Wailea, HI (PRWEB) October 13, 2013
Unlike other directories, MauiOwnerCondos.com will not accept a listing for an accommodation that does not include a Tax ID as required by Hawaii Act 326 (enacted July 1, 2012). MauiOwnerCondos.com also confirms ownership of each listing with Maui County prior to activating. Only condos and homes legally permitted are offered for rent through this website. Inspections of the accommodations are required and "Starfish of Excellence" is awarded to qualifying accommodations.
Designed to help regulate short term rentals, Hawaii Act 326 requires all landlords to display their Hawaii Transient Accommodations tax identification number on all advertisements and solicitations on websites. It also requires an owner who does not live on island to display (in the condo & in contracts) contact information for a local contact available to their guests. The deadline for posting Tax ID numbers and supplying local contact information was extended to December 31, 2013.
"We believe in legal Transient Accommodations Rentals and Short Term Rental Homes that play by the rules. We also want all of our potential guests to know and easily see that the rental they are considering for their Maui Vacation is legal, legitimate and plays fairly," stated Matt Pauli, Director of Operations of MauiOwnerCondos.com.
The online directory for rentals in South Maui makes it easy for a member to follow the law and for potential vacation renters to recognize the site as a law abiding business. Members can easily include their Hawaii tax identification number with their listing when uploading information to this online directory. The permit number is then available on their website listing in the rates area.
Once the property has passed the verification process, MauiOwnerCondos.com inspects every property to confirm that it meets their criteria. A few aspects the directory takes into consideration with each listing are: the level of finish (has the condo been remodeled recently), amount and quality of linens, silverware, and amenities (internet access, beach items). Only condos and homes that pass the legal verification and home inspection are listed on the site.
"We provide our rental owner members an easy way to be aware of and follow the law and in return this gives our renters and visitors peace of mind," continued Pauli.
For more information on available rentals or membership, please visit: http://mauiownercondos.com/
About MauiOwnerCondos.com
Established in 2000, MauiOwnerCondos.com has been a directory of vacation rental condos designed to help potential renters find the perfect property for their South Maui vacation. Only accommodations that have been verified as legal, compliant rentals are accepted. As a one stop resource for booking a trip to Maui, travelers are able to find a condo or single family home to rent worry free as well as travel insurance, rental car deals, guidebooks and more. MauiOwnerCondos.com provides the ideal online directory for both renters and home owners to connect for vacation rentals. Our number one priority is customer service for both the renter and home owner. For more information, please visit http://www.mauiownercondos.com or call 312-315-4544.