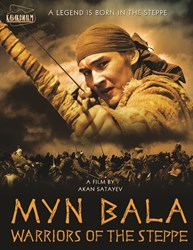 "Myn Bala is set to do for Kazakhstan what Crouching Tiger, Hidden Dragon did for China: take its films out of the arthouse and into the mainstream." - London Evening Standard
(PRWEB) October 17, 2013
Myn Bala: Warriors of the Steppe is the story of young Sartai, a Kazakh teenager faced with a war, his first love, and betrayal. Discovering his own strength, he assembles a detachment of teenage warriors called 'myn bala' ('a thousand boys' in Kazakh). They would become legends, playing a decisive role in the liberation of Kazakhstan from its oppressors.
Please find the preview here: http://youtu.be/_cODfZquwKI.
Please reply to this release's contact information (Adam Mitchell) for screening link and password to review the film.
Your interest in reviewing this film is greatly appreciated. As a celebrated film, it is highly relevant and entertaining for Western audiences. 108 Media would like to engage any interested parties with all review materials and further discussion.
KEY NOTES:
Official selection for the 85th Academy Awards - Best Foreign Language Film
"Myn Bala is set to do for Kazakhstan what Crouching Tiger, Hidden Dragon did for China: take its films out of the arthouse and into the mainstream" - London Evening Standard
"...historical epic with lavish battle scenes" - The Independent
"...Asian hybrid of Braveheart and 300, Kazakhstan's official entry in the best foreign-language Oscar race is a sabre-rattling, chest-beating, flag-waving celebration..." - The Hollywood Reporter