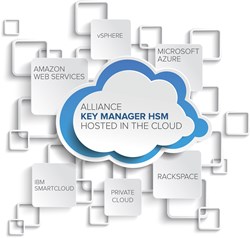 Our announcement today of a cloud key management HSM offering is one more step in our plan to make affordable and NIST validated encryption key management available to everyone. - Patrick Townsend, Founder & CEO
Olympia, WA (PRWEB) October 14, 2013
Townsend Security, a leading authority in data privacy solutions, today announced a "hosted in the cloud" option for their flagship Alliance Key Manager HSM. Consisting of a production and high availability (HA) HSM, the encryption key management solution is hosted in geographically dispersed data centers under an ITIL-based control environment independently validated for compliance against PCI DSS and SOC frameworks.
Enterprises can now safely migrate applications to the cloud without deploying encryption key management in their own data centers. The Townsend Security Alliance Key Manager Hosted HSM offers fully redundant, FIPS 140-2 compliant encryption key management for cloud applications running in Amazon Web Services, Microsoft Azure, Rackspace, Hosting.com, and many other cloud environments. By deploying an encryption key management HSM, administrators can maintain full control over their encryption keys through the entire key lifecycle. Unlike other hosted encryption key management offerings, only the customer has administrative and security access to the HSMs. Additionally, Alliance Key Manager Hosted HSM is under the customer's control, allowing them to migrate to a different hosting provider at any time.
"The top concern of enterprises moving to the cloud is data protection, and encryption key management is the cornerstone of a data protection strategy," said Patrick Townsend, Founder and CEO of Townsend Security. "Cloud users and cloud providers now have an option for affordable encryption key management that is NIST FIPS 140-2 compliant and fully under their control."
Available at no extra charge, Townsend Security's ready-to-use security applications for Microsoft SQL Server Transparent Data Encryption (TDE) and Cell Level Encryption, Microsoft SharePoint encryption, Volume and Folder encryption with TrueCrypt for Windows, and other applications. There are never extra fees for deploying client-side applications.
"Our announcement today of a cloud key management HSM offering is one more step in our plan to make affordable and NIST validated encryption key management available to everyone," continued Patrick Townsend.
Through the end of 2013, Townsend Security will waive the set-up fee associated with deploying the Alliance Key Manager Hosted HSM.
About Alliance Key Manager Hosted HSM
Townsend Security's virtualized encryption key manager, Alliance Key Manager Hosted HSM, allows enterprises to properly manage their encryption keys while meeting security requirements in less time and at a lower cost. Additionally, the HSM supports on-appliance encryption and decryption services so that your encryption key is always kept separate from the data it protects. Alliance Key Manager Hosted HSM is currently only available to customers in North America.
Alliance Key Manager Hosted HSM is available for a free 30-day trial.
###
About Townsend Security
Townsend Security creates data privacy solutions that help organizations meet evolving compliance requirements and mitigate the risk of data breaches and cyber-attacks. Over 3,000 companies worldwide trust Townsend Security's NIST and FIPS 140-2 certified solutions to meet the encryption and key management requirements in PCI DSS, HIPAA/HITECH, FISMA, GLBA/FFIEC, DIACAP, SOX, and other regulatory compliance requirements. Learn more at http://www.townsendsecurity.com.
Luke Probasco
Townsend Security
P: 360.359.4400
F: 360.357.9047
luke.probasco(at)townsendsecurity(dot)com
http://www.townsendsecurity.com