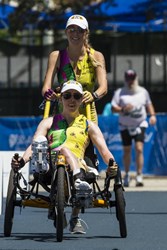 "We're achieving a dream that no one thought we could ever achieve." - Win Charles
Aspen, CO (PRWEB) October 11, 2013
One of Challenge Aspen's first participants, Win Charles, is embarking on a new adventure this weekend at the Ironman Championship in Kona, Hawaii. Living with two major medical conditions has not stopped Charles, it has only motivated her to move forward and continually reach for bigger and better achievements.
Charles and her triathlon partner, Barbara Ann Bernard, will compete in the Kona Ironman on October 12, 2013, as one of seven teams chosen via public voting through the Ironman Kona Inspired Program.
The Kona Inspired program honors athletes with exceptional stories such as Win Charles.
Charles was born with two major medical conditions, cerebral palsy and severe scoliosis. Neither of these conditions has hampered her drive to succeed. Once this race is completed, Charles and her partner, and cousin, Barbara Ann Bernard will become the first female team with cerebral palsy to complete the Kona Ironman.
"Team weWin" the name Charles and Bernard compete under, will be the first female team to have attempted an Ironman competition. Bernard is a experienced triathlete, Ironman competitor and the 2012 Ironman Executive Challenge Women's Athlete of the Year. The team will swim the 2.4 miles with Bernard pulling her cousin in an inflatable boat, cycle 112 miles with Charles on a recumbent bicycle and run the 26.2mile final piece pushing her in a special wheelchair.
The cousins have become closer as months of tough training has bonded them and helped Charles experience more independence and confidence.
"We're achieving a dream that no one thought we could ever achieve," Charles said.
Follow Team weWin on Facebook https://www.facebook.com/TeamWeWin and Twitter @TeamWeWin. Use the hashtag #TeamWeWin to cheer the team on.
ABOUT CHALLENGE ASPEN
Challenge Aspen provides recreational, educational and cultural experiences for people with disabilities. Hosting year-round, adaptive recreational, educational and cultural opportunities they make activities accessible to people with any physical or cognitive disability. Challenge Aspen Military Opportunities (C.A.M.O.) was founded in 2005 and provides year-round experiences for injured and ill service members. Challenge Autism was founded in 2012 and provides individuals on the Autism spectrum with opportunities to improve in sports, communication, and daily life skills through highly structured activities.