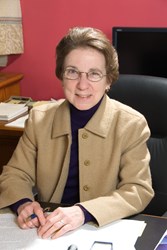 One of the region's most influential women, S. Elizabeth has been president of SJC since 1997.
Brooklyn and Patchogue, N.Y. (PRWEB) October 14, 2013
St. Joseph's College (SJC) is pleased to announce that it will hold its 31st Annual Scholarship Gala on Friday, November 8 at the Crest Hollow Country Club in Woodbury, N.Y. The evening will begin at 6:30 p.m. with cocktails followed by dinner and dancing at 7:30 p.m. This year's black tie affair will honor SJC President S. Elizabeth A. Hill, C.S.J., J.D., who will be retiring in June 2014. Proceeds from this event will be used to establish the S. Elizabeth A. Hill Scholarship Fund.
"It has been a great blessing and a true pleasure to work with S. Elizabeth for so many years, as she represents the best of leadership and integrity in every sense of the word," said Vice President of Institutional Advancement Nancy Connors. "I will miss working with her every day, but I am grateful that she is an alumna of the College and will never be that far away."
One of the region's most influential women, S. Elizabeth has been president of SJC since 1997. Since her inauguration, she has overseen the expansion of two campuses, most notably the construction of a state-of-the-art Business and Technology Center and 24.8-acre premiere outdoor sports facility on the Long Island Campus, as well as launching a comprehensive, capital Master Plan for the Brooklyn Campus that included a 44,000-square-foot athletic complex. Under her leadership, the College's enrollment and range of academic offerings have continuously increased while tuition has remained consistently among the lowest in the New York metropolitan area.
During her tenure as president, S. Elizabeth secured several large grants from the federal government, including the largest in the College's history. She was also responsible for securing successful major and estate gifts, including a bequest of $4 million to endow scholarships for students in need. S. Elizabeth has been the recipient of numerous awards and accolades for her leadership and lifelong dedication to the field of education.
A magna cum laude alumna of SJC, S. Elizabeth is a native of Brooklyn, N.Y. She received an M.A. in History from Columbia University and studied theology and scripture in Rome under the auspices of Gregorian University. S. Elizabeth also received a J.D. from St. John's University School of Law.
Individual tickets and various levels of sponsorship are available for purchase. For more information, call 631.687.2655 or visit http://www.sjcny.edu/dinnerdance.
ABOUT ST. JOSEPH'S COLLEGE
St. Joseph's College has been dedicated to providing a diverse population of students in the New York metropolitan area with an affordable education rooted in the liberal arts tradition since 1916. Independent and coeducational, the College provides a strong academic and value-oriented education at the undergraduate and graduate levels, aiming to prepare each student for a life characterized by integrity, intellectual and spiritual values, social responsibility, and service. With campuses located in the Clinton Hill area of Brooklyn and in Patchogue, Long Island, the College offers degrees in more than 26 majors, special course offerings and certificates, affiliated and pre-professional programs.