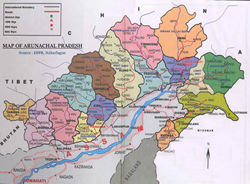 India Network Travel Grants provide unique opportunity for Indian Researchers
Orlando, FL (PRWEB) October 14, 2013
India Network Foundation, a non-profit community organization in the United States, supports various activities of Asian Indians in the United States and academics of India through its prestigious Travel Grant Program. This Travel Grant is made possible by generous contributions from Dr. KV Rao to encourage Indian academics perform cutting edge research and present their findings at professional meetings held in the United States. Details of the program and application process can be found on the India Network Foundation Web Site.
Professor KV Rao congratulated Dr. Deori on winning the Prestigious India Network Travel Award saying, "The Foundation launched several projects including visitor health insurance program for parents traveling to the United States, Matrimonial Assistance to Second Generation Asian Indians in the United States, and Travel Grants to talented researchers from India which enable them to present their research at national and international conferences held in the US. I am happy to support such programs."
Our latest India Network Travel Grant recipient Dr. Deori is currently working as Assistant Professor, Department of Ancient Indian History Culture and Archaeology, Visva-Bharati, Santiniketan, West Bengal, India. Dr. Deori's research interests focus on the archaeology of South East Asia, ethno-archaeology, ethnography, perishable material culture and cultural studies. She has participated in many archaeological explorations and excavations to her credit. Her current research on Galos in Arunachal Pradesh help understand various traditions among tribal populations of India. Dr. Deori's paper attempts to understand the Galo oral tradition and its significance for the reconstruction of their history and also to document the lineage of certain clans of the Galo tribe. Complete Paper can be found the India Network Foundation web site.
About India Network Foundation
India Network Foundation, established as a US non-profit organization, has been helping the Asian Indian community in the United States with programs and grants to academics from India for more than two decades. India Network Foundation sponsors visitor health insurance to tourists, students, temporary workers (H1 visa holders) and their families.Foundation encourages and facilitates various individual projects in Rural India.
For more information visit http://www.indianetwork.org.