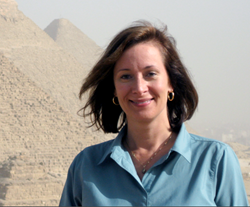 Metairie, LA (PRWEB) October 14, 2013
Metairie Park Country Day School presents Melinda Hartwig, Ph.D., Associate Professor of Ancient Egyptian Art, on Thursday, October 24, 2013, at 7:00p.m. in Weinmann Auditorium. Admission is free.
Dr. Melinda Hartwig is an Associate Professor of Art History at Georgia State University who specializes in the art and architecture of ancient Egypt and the ancient Mediterranean basin. She received her Ph.D. in Egyptian and Near Eastern Art and Archaeology from the Institute of Fine Arts, New York University in 2000.
In addition to teaching a broad range of courses, she lectures widely around the world. She has curated several national exhibitions about ancient Egyptian art and culture, and has a number of publications to her credit including Tomb Painting and Identity in Ancient Thebes (Brepols, 2004), The Tomb Chapel of Menna (TT 69), and The Art, Culture and Science of Painting in an Egyptian Tomb, distributed by Oxford University Press. She is currently editing a textbook entitled A Companion to Ancient Egyptian Art for the Blackwell Companions to Art History series (Wiley-Blackwell: Oxford, UK-Cambridge, MA).
Dr. Hartwig has directed a number of conservation and documentation projects in Egypt for the last 30 years, funded by the National Endowment for the Humanities (NEH) and the United States Agency for International Development (USAID). Melinda is also a frequent on-air commentator for The National Geographic Channel, The Discovery Channel, The History Channel, The Science Channel, the BBC and PBS.
Metairie Park Country Day School is a private, independent, non-sectarian Pre-K through Grade 12 school in Metairie, LA.
Visit http://www.mpcds.com/egypt for more information.