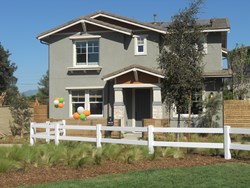 'Oakgrove Walk is a very unique community with a great natural foundation, and we wanted to preserve that,' stated Steve Olson, Chairman of The Olson Company.
La Verne, California (PRWEB) October 11, 2013
It's time to discover new homes in the heart of one of Southern California's greatest towns. Olson Homes' newest community, Oakgrove Walk in La Verne is now open, and you're invited to see what it's all about! This is your opportunity to discover new homes in Los Angeles County with modern features, a myriad of amenities and an ideal location walkable to highly acclaimed schools, dining, shopping and entertainment, so don't miss out! Visit the sales office today for your chance to tour the all-new model homes and see why Oakgrove Walk is the new neighborhood you've been waiting for.
A community planned around its natural habitat, Oakgrove Walk affords residents exclusive access to the land's native mature oak trees, many of which are more than 100 years old. "Oakgrove Walk is a very unique community with a great natural foundation, and we wanted to preserve that," stated Steve Olson, Chairman of The Olson Company. "We've made special efforts to build around preserved mature oak trees on the property as well as integrate walking paths throughout. It's our hope that each tree not only tells a story but also brings residents together and adds distinct character to this special community."
Nestled in the foothills of San Gabriel Valley, new single-family detached homes at Oakgrove Walk offer families a long-awaited new beginning in a premier setting, with pricing from the high $400,000s. Spanning from 1,570 to 1,872 square feet, four floor plans present an extraordinary lifestyle, providing up to four bedrooms and three and one-half baths in addition to stunning interiors and premium appointments. Featuring desirable private yards, these new single-family homes are designed to meet every aspect of family living.
In addition to outstanding community amenities, the LEED Silver certified homes at Oakgrove Walk also offer eco-friendly solar energy that comes standard with every home, including solar roofs by PETERSENDEAN®. By harnessing the power of the sun, these eco-friendly panels allow residents to preserve the environment while reducing their electric bill, resulting in decreased spending and increased utility savings.
At the heart of easy living, Oakgrove Walk invites you to rediscover your roots and live close to everything in La Verne. Here in this charming city, residents enjoy easy access to a variety of shops, restaurants, entertainment destinations and more. Twenty community parks ensure a myriad of outdoor recreation opportunities, while an ideal location near the 57, 210 and 10 freeways offers easy access to downtown Los Angeles as well as business centers and points of interest throughout Southern California. Plus, prestigious area schools in the acclaimed Bonita Unified School District allow families to celebrate a bright future in La Verne.
Oakgrove Walk is located at Dover Avenue and D Street in La Verne. Sales center is open daily from 10:00 am to 6:00 pm. For more information on Oakgrove Walk, visit OakgroveWalk.com or call (909) 714-8725.
The Olson Company's numerous successful urban living developments across Southern California over the last 25 years reflect its commitment to making the homebuyer top priority. The recipient of several Eliant awards, the company believes in 'livability' and implements a thoughtful and detail-oriented approach from concept through execution. As part of their unique approach to creating communities, The Olson Company understands all that goes into buying a new home and provides ongoing tailored services to support the needs of its homeowners, including financial education and the exclusive Homeowner Champion Program.