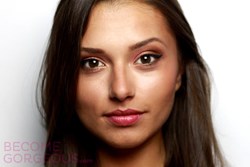 At Becomegorgeous.com, our mission is to make women feel beautiful by offering ideas and tutorials that help them accentuate their best features.
(PRWEB) October 14, 2013
Becomegorgeous.com releases a new makeup tutorial for hazel eyes, analyzes spring 2014 makeup trends and examines the classic lip colors trends that never go out of fashion, to help women find ideas they can use to create chic looks.
Makeup is a powerful weapon: it puts the spotlight on a woman's best features, can make any outfit a bit more interesting and can be an instant confidence booster, provided the right choices are made. In some cases, however, the right options aren't immediately intuitive. Hazel eyes are an interesting blend of different colors, so it can be difficult to know which eyeshadow tones work best. Women with hazel eyes have many interesting possibilities for creating a fabulous look as they can choose many different makeup tones depending on which of their defining eye color shades they wish to emphasize. Because brown is one of the defining tones of hazel eyes, most tones that work well for brown eyes work for this eye color as well.
The hazel eye makeup tutorial highlights some of the best makeup colors for hazel eyes for day and night and offers detailed, step-by-step video instructions for getting a classy, glamorous makeup look, from the basics of covering imperfections to the final touches. Written instructions are also offered and can be used for further reference.
Trends set by the fashion and beauty industry can also be a good starting point for interesting makeup looks. The spring 2014 makeup trends are no exception, offering many noteworthy ideas, from variations on the classy cat eye makeup looks to bold tones worth experimenting with. Not only does the article include several runway makeup looks from Fashion Week spring 2014, it also specifies the makeup products used to create them.
While trends can be a good starting point for creative makeup looks, opting for classic beauty staples is always a surefire way to impress. When it comes to lip color trends, there are several hues that are never out of style. The article on classy lip color trends sheds light on some of the most sophisticated tones which can work well for any situation when a classy look is desired and includes several photos of the Hollywood A-listers who stole the spotlight with their elegant looks, to illustrate the power of these beautiful tones. Furthermore, the article provides product recommendations for getting similar looks.
About us
Becomegorgeous.com was created in 2007 and has become a comprehensive source of information on high interest topics for women of all ages ever since. Its goal is to help women find the tools they need to be able to explore their full potential and become the best version of themselves. It focuses on delivering high quality content on a myriad of subjects ranging from fashion, makeup and beauty care tips to health and fitness, love and relationships, travel and living and entertainment. The growing beauty community allows users to share their thoughts and concerns with like-minded individuals.