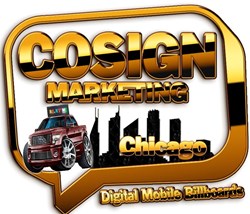 "With the old mobile billboard company we were with, we had to wait at least a week to get the artwork printed and they charged us $800 on top just to do it. With Cosign Marketing, all we do is email our artwork and it's on the road in minutes."
Chicago IL (PRWEB) October 12, 2013
Cost Effective with New Technology
Cosign Marketing's approach to mobile billboards is much different than anything that has been previously used in advertisements. Instead of the boring and dated static vinyl billboards that only allowed for one company to advertise on at a time, Cosign Marketing billboards are more modern and up to date. Cosign Marketing's mobile billboards utilize new technology with attention grabbing graphics on a high-quality digital billboard attached to the back of a moving truck. As the truck drives around, multiple attention grabbing advertisements are displayed in an HD quality L.E.D digital billboard. Because several companies can advertise at once, costs are vastly reduced. These advertisements are about one third the cost of the old, singular ad vinyl billboards that were previously being used. "With the old mobile billboard company we were with, we had to wait at least a week to get the artwork printed and they charged us $800 on top just to do it. With Cosign Marketing, all we do is email our artwork and it's on the road in minutes," said one happy customer, Justin Garber, CEO, JailCallsUSA.com.
Attention Grabbing
Digital billboards are more attention grabbing at about a third of the cost and they expose the public to multiple advertisements on the same rotating video screen, which is a better promoting tool than traditional billboard signs along the side of the road. Because the screen is actually attached to a moving truck the advertisements can reach all around the city and suburbs. This is a ground breaking, legal and legitimate way to advertise and is covered by the U.S. constitution's 1st amendment. Cosign Media states there have never been any reported traffic accidents involving digital mobile billboards. Many big time advertisers, such as Lady GaGa, are using HD quality L.E.D. mobile billboards to advertise. Lady GaGa recently launched her new album "ARTPOP" campaign in and around Chicago using this type of advertising medium. The customer can even track where the truck with his advertisement is located, using a GPS tracking device.
About Cosign Marketing
Located in the greater Chicagoland area, Cosign Media has been in the advertising industry for years, fulfilling the advertising needs of many satisfied customers.