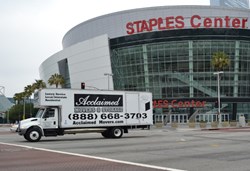 Los Angeles, CA (PRWEB) October 13, 2013
Movers in the Southern California area can now take advantage of the specialized expertise offered by Acclaimed Movers and Storage. Long revered as a top luxury moving company, the firm provides LA packing and crating services by qualified professionals. In fact, Acclaimed goes beyond typical LA packing and crating by using only the best quality materials and protective equipment. Moreover, LA packing and crating professionals are carefully vetted and thoroughly trained to understand all aspects of the process. Custom crating is designed as needed, and all items packed—whether they're household goods, business equipment, or fragile and valuable items—are treated with exceptional care to maintain quality and integrity throughout the moving or storage process.
Expert packing and crating aren't the only areas where Acclaimed Movers and Storage excels. The company specializes in full-service moving, which means they tend to customers' every need through each and every step of the relocation process. Moving consultants set up all services required, and make every effort to accommodate the movers'—not the moving company's—schedule. As stated above, LA packing and crating professionals are courteous, punctual and fully instructed; they've raised the packing process to an art. Disassembly and re-assembly are performed as required, and loading and unloading is an efficient undertaking. When it's time to transport items, a fleet of well-maintained moving trucks are at the ready, with bio-diesel-fuel engines for eco-friendly traveling. Occasionally, storage may be required: Acclaimed Movers' state-of-the-technology, climate-controlled facility is the pride of the company.
From the first phone call to a customer service representative to the unpacking of the last box in the new location, Acclaimed Movers and Storage is committed to making every move as simple, straightforward and painless as possible. Acclaimed Movers' works with clients to help them get the services they need, when they need them. All employees are knowledgeable, polite and pleasant to work with. And of course, by leaving the packing, loading and driving in their capable hands, movers can spend their energy focusing on settling into their new home or business facility. Questions or concerns? No problem—a moving expert is just a phone call away and prepared to handle anything that comes up. Whether the move is local, long distance, cross country or even international, Acclaimed Movers and Storage can get you there. Call today for a free quote.