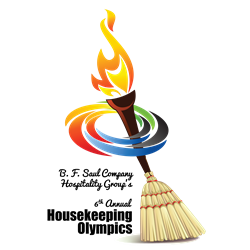 Our teams take a lot of pride in their work, which is evident by our service scores, so they get really fired up to compete and show off their trade
McLean, VA (PRWEB) October 14, 2013
International Housekeeping week was recently observed by many hotel properties throughout the world, and the properties owned and managed by B. F. Saul Company Hospitality Group were no exception. In fact, as usual, B. F. Saul Company took their celebration to another level, hosting their 6th annual Housekeeping Olympics on Friday, September 13, 2013.
The week of celebration lasted from September 9-13, and was originally started by the International Executive Housekeepers Association (IEHA) in 1981 to recognize the hard work and dedication of these invaluable employees. Throughout the week, each individual B. F. Saul hotel found unique ways to honor their housekeepers, from games and contests with prizes for the winners to special planned meals and even picnics; the employees knew they were appreciated.
As the main event for B. F. Saul's housekeeping week, the housekeeping Olympics continue to be a highlight of their teams' year. "It's amazing how much energy and camaraderie are in the room when we bring all the housekeeping teams together to compete," says Mark Carrier, president of B. F. Saul Company Hospitality Group. "Our teams take a lot of pride in their work, which is evident by our service scores, so they get really fired up to compete and show off their trade."
Like years past, this year's "Housekeeping Olympics" were held at the Crowne Plaza Tysons Corner hotel in McLean, Virginia. However, unlike in years past, this year's event featured a couple of new components, including a few different events and three guest "celebrity" judges. The three guest judges were representatives from local convention and visitors bureaus, including Barry Biggar from Visit Fairfax (VA) and Kelly Groff from Visit Montgomery (MD. This year the hotels' housekeeping staffs competed in the following events:

Toilet Bowl Basketball – Well known as a B. F. Saul staple event, in this individual event, each hotel entered two contestants to participate. Each team had 120 seconds to toss as many rolls of toilet paper he or she can into a toilet bowl 20 feet away. The team with the most "baskets" wins. This year's winning team for Toilet Bowl Basketball was the Hampton Inn Dulles/Cascades with a whopping 57 baskets made.
Balloon Sweep – A brand new event to this year's Olympics, teams of three or six had to use only a broom and dustpan to franticly pick up six of their team's colored balloons that were scattered throughout the arena. The team that picked them all up the fastest and without any penalties, won. The winning team for the Balloon Sweep was TownePlace Suites by Marriott Dulles Airport hotel with a time of 26.88 seconds.
GM Mummy Wrap – Another new event, this one became an instant crowd favorite. In this event teams of two housekeepers had to fully wrap their hotel's general manager (GM) with toilet paper from head to toe, like a mummy. Team's received additional time penalties for things like breaks in the roll and gaps in the wrapping. The winning team for the GM Mummy Wrap was the Holiday Inn Express Reston/Herndon Dulles Airport with a stunning time of 139 seconds.
Towel Origami – As the last new event of the Olympics, this was the only event that was used as extra credit. Each team had an opportunity to create some beautiful designs using only folded bath, hand, and wash towels. Each towel origami display was judged by our guest "celebrity" judges and from their scoring a winner was determined. The Towel Origami winner was the Holiday Inn Gaithersburg hotel.
The overall winner for this year's 6th annual Housekeeping Olympics was the TownePlace Suites by Marriott Dulles Airport hotel in Sterling, VA.
Housekeepers are a vital, yet often overlooked part of any hospitality operation, and Housekeeping week lets them know how valuable their services truly are. It gives them a chance to unwind, see their colleagues in a different light, and truly have some fun.