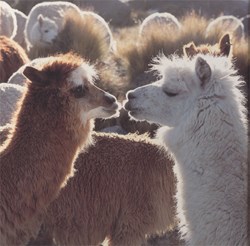 The evening will feature some of the world's foremost experts on sustainability and luxury alpaca textile production.
San Francisco, CA (PRWEB) October 13, 2013
On Thursday, Oct 17 from 5:30 to 7 pm, the Sandra Jordan Collection and Shears and Window present "Clouds on Earth: Rediscovering the Luxury of Alpaca," a lively panel discussion celebrating the magical world of alpaca textiles. The panel will explore how designers are bringing the luxury of the Incan Empire into interiors across the country and how the organization Pacomarca is working to preserve this sustainable art form for future generations.
The panel will feature Sandra Jordan, founder of Sandra Jordan Prima Alpaca, Jiun Ho, designer and founder of Jiun Ho Inc. and Alonso Burgos, head of Pacomarca and one of the world's foremost experts on luxury alpaca textile production. The panel will be moderated by business consultant and freelance journalist Katherine Nelson.
Raised high in the remote, harsh climate of the Andes mountains, alpacas are ancient, sacred animals whose fleece was once lavished on Incan nobility. Not only is the tradition of raising alpacas an ancient practice that is a source of pride for Andean people, it also leaves a light footprint on the land. The cycle of herding, shearing and refining the fleece is a green process that gives careful consideration to the environment.
"Clouds on Earth" will explore the current state of luxury alpaca production. Today, with a combination of genetic research and age-old craftsmanship, companies such as Sandra Jordan Prima Alpaca are encouraging the world to rediscover the softness, versatility and luxury of alpaca.
"We are privileged to host what promises to be an inspiring evening," says event organizer Sandra Jordan. "Both Alonso and Jiun are leaders in their fields. They have a unique perspectives on what this precious fabric brings to interior environments."
The event will take place at the Shears and Window Showroom at the San Francisco Design Center, 101 Henry Street # 452.
Special thanks to Luxe Interiors + Design for their support with this event.
RSVP receptionist(at)shearsandwindow(dot)com