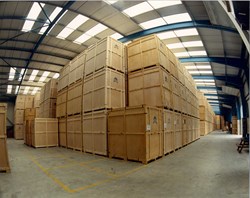 North Hollywood, CA (PRWEB) October 21, 2013
Art collectors, gallery owners, museum curators and others who find themselves in need of art storage can now turn to Los Angeles-based Acclaimed Movers and Storage. The nation's premier luxury moving company, famous for their comprehensive services and support for commercial, residential and international movers, is proud to debut their modern warehouse facility, perfect for art storage and containment. Whether a gallery or museum is undergoing renovations or a new exhibit space isn't quite ready, Acclaimed Movers' exceptional storage facility will provide paintings, sculptures, heirlooms, vases and other fine pieces a safe, secure and comfortable temporary home. A top-of-the-line video surveillance system has been employed, covering every inch of the warehouse, with electronic eyes that operate 24/7 for complete security. The facility also boasts a state-of-the-art climate control system to ensure that all contents are kept at the perfect temperature for preservation. Moreover, the warehouse is designed to keep all objects free from dust, dirt, mildew, pests and the elements. Items are stored in specialized vaults, ensuring priceless works of art are kept in perfect condition. For assistance or access, a staff of experts will be happy to offer their assistance. Long term and short term art storage options are both available.
With a new warehouse facility, Acclaimed Movers and Storage has become an exceptional choice for storage of any item. But they built their reputation on exceptional moving services—and with good reason. Their professional, meticulous approach to the moving process is legendary. Employees undergo rigorous instruction in every aspect of packing, crating, loading, unloading and even assembly. All drivers are fully licensed, insured and trained to maneuver large moving vans with ease. An eco-friendly fleet features bio-diesel-fuel engines and low-rolling-resistance tires to increase efficiency and decrease carbon particulates, while GPS units make it simple to get to any location and avoid traffic jams, accidents, closures, etc. A friendly, courteous and knowledgeable representative is always available to handle any questions or concerns.
The company's no-detail-left-unturned approach is a testament to their commitment to quality and customer satisfaction. Acclaimed Movers' takes their clients' moves, belongings and peace of mind seriously. Whether it's packing every item carefully (in customized crating if necessary), re-assembling furniture and office equipment, or simply keeping customers up-to-date on the paperwork they'll need for their relocation, Acclaimed Movers provides the services needed to make every move a success. Contact them for information on local, long distance, international and commercial moving services. Don't forget to ask for a free quote.