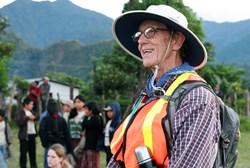 We should be at our best for the poor. We should give them our best effort. They deserve it.
Kansas City, KS (PRWEB) October 11, 2013
The streets of San Lucas Toliman, Guatemala are filled with mourners showing respect for the American man who dedicated his life to helping them achieve their dreams.
The town community center is packed with those keeping around the clock vigil with the body of Bob Hentzen until his burial Saturday.
Hentzen, 77, co-founder and president of the largest charitable organization in Kansas and one of the 200 largest non-profits in the United States, died Tuesday, October 8 in Guatemala City.
Hentzen, his siblings and a family friend started CFCA, an international sponsorship organization in the basement of his home in 1981. They began their adventure with a Christmas card list.
Today, CFCA works in 21 developing countries around the world. The organization Hentzen helped build serves more than 300,000 children and aging people and their families. More than $1 billion in direct aid has been distributed to benefit families in the CFCA programs.
Hentzen was an unconventional leader; he was never one to wear a suit and tie. He preferred living in Guatemala among the families who live on the margins of society, promoting the concept of "gentle, balanced leadership."
"Bob walked right into the hearts of people in poverty all over the world," said CFCA CEO Paco Wertin. "He built bridges across divides."
In 1996, Hentzen set out on foot from CFCA headquarters in Kansas City, Kan., and walked all the way to Guatemala as an act of solidarity with the poor where he and his wife Cristina settled.
In 2009, Hentzen embarked on his second walk, an even bigger challenge. He assembled a team to walk with him from Guatemala to Chile, walking through 12 countries and more than 8,000 miles lasting 18 months. He completed the walk just before his 75th birthday.
"Society has told them [the poor] all along that they are not capable," Hentzen said during the walk. "We are here to tell them they are quite capable. You are not alone. We are walking with you."
Bob died unexpectedly of natural causes. He was the last surviving member of CFCA's five original founders. But the mission and work of CFCA will continue.
"He was fearless in walking that road," Wertin said. "He will continue to walk with us, leading the way."
Bob is survived by his wife, Cristina, six children, 11 grandchildren, seven sponsored children, many nieces and nephews and an international circle of friends that numbers in the hundreds of thousands.
Hentzen will be laid to rest Saturday, October 12, 2013 in San Lucas Toliman, Guatemala.
A memorial mass will be scheduled at a church near CFCA headquarters in Kansas City, Kan. at a later date.
The family asks those who would like to honor Bob Hentzen's life do so by sponsoring a child or donating to the CFCA Scholarship fund at hopeforafamily.org.