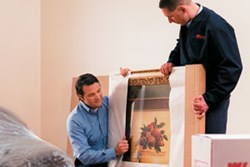 (PRWEB) October 17, 2013
In an effort to further their reputation as a luxury moving company, Los Angeles-based Acclaimed Movers and Storage has added art movers to their staff. These experienced professionals are experts in the specialized field of art moving, and possess the knowledge necessary to carefully pack and transport paintings, sculptures, antiques, instruments and other valuable works of art, safely and securely. High quality packing materials, custom crating and proper tools (such as cranes) come standard, and the same care and attention are given to every piece, no matter how large or small. Several museums in and around Los Angeles have already taken advantage of the company's art moving services—a testament to Acclaimed's trustworthiness and expertise. The art movers that have joined the Acclaimed Movers team virtually guarantee that all art, heirlooms and more will be delivered in the same flawless condition in which they are picked up.
Acclaimed Movers is committed to providing the same peace of mind to their art-loving clients as they do to their other customers. As a luxury mover, every item handled during a move is treated with the upmost care. An extensive training process for employees ensures that all moving professionals handling the move are skilled in the art and science of packing and transport. Drivers are fully licensed and insured, and operate well-maintained trucks equipped with GPS units. Even storage needs can be accommodated in an enormous warehouse facility that boasts modern amenities: vault-based system, full climate control, 24/7 video surveillance, and complete protection from dust, mildew, vermin and the elements.
More than 10 years ago, Acclaimed Movers and Storage began offering the finest moving services to Southern California residents looking for assistance with their commercial and residential moves. Since then, the company has become the name in luxury moving. International, cross country and local moves—Acclaimed has done it all, with no detail left unattended. By adding a crew of experienced art movers to their staff, the company can now offer the same exceptional service to museums, galleries, libraries, auction houses or any individual or company that possesses fine art or artifacts and is faced with a relocation. Acclaimed Movers is committed to making every move as simple and stress-free as possible. Contact them for a free quote for your luxury moving needs.