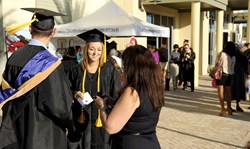 Orange Beach, AL (PRWEB) October 11, 2013
More than 3,000 graduates and guests from around the globe will travel to Orange Beach, Ala. for the annual Columbia Southern University (CSU) commencement ceremonies on Friday, Oct. 25, at the Orange Beach Event Center.
Two graduation ceremonies will be held to accommodate the more than 500 graduates eager to walk across the stage. There will be a ceremony at 9 a.m. and a second ceremony at 2 p.m. to accommodate graduates and guests representing several nations as far away as Europe and Vietnam and numerous states such as California, Ohio, Florida and New York.
Keynote speaker for the ceremonies will be Bob Alsop, president of Waldorf College, the sister school of CSU. Waldorf is a four-year liberal arts college based in Forest City, Iowa, that offers residential and online degrees. Other guests include Orange Beach Mayor Tony Kennon and Bradley Byrne, candidate for 1st Congressional District of Alabama.
"We are very excited that so many of our students are attending this special event," said Robert Mayes, CSU president. "Each graduation yields more graduates and guests than the previous which is a strong testament of the passion and dedication of our students. We are so proud to be part of their educational journey to help change their lives and careers."
There will be an open house at the CSU facility on University Lane in Orange Beach from 10 a.m. to 5 p.m. Thursday, Oct. 24 where faculty and staff will greet graduates and guests. Immediately following the open house, CSU will host a family-friendly reception at the Gulf State Park Beach Pavilion for networking and socializing.
"Preparations for these events are in full swing," said graduation coordinator Brittany Malburg. "This will be a stellar event for our graduates as they cap their hard work, sacrifices and efforts to earn a degree. We are so happy for their success!"
CSU offers online associate, bachelor's, master's and doctoral degree programs in various fields such as fire science, fire administration, occupational safety and health, criminal justice and business administration.
To learn more, visit http://www.ColumbiaSouthern.edu.