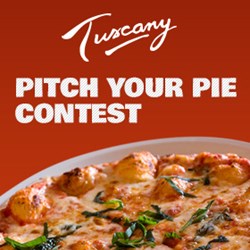 Become a Chicago Pizza Legend and Pitch Your Pie. First 100 entries receive a $10 Tuscany Restaurant gift card.
Chicago, IL (PRWEB) October 12, 2013
This one goes out to all the pizza lovers out there! Celebrate National Pizza Month by Pitching Your Pie to Tuscany Restaurant.
Tuscany Restaurant of the Phil Stefani Signature Restaurant Group is hosting 'Pitch Your Pie,' a pizza design contest. Start out by liking the official Tuscany Restaurant Facebook page, then participants pitch their best combination of cheeses, sauces and toppings and let the votes roll in. Participants can visit Facebook or the Stefani Restaurant blog once a day to vote for their pie before pitching ends on October 30th. As voting closes, the five pies with the most votes will be reviewed by the Phil Stefani Chef Panel in which a winner will be chosen.
The first 100 entries receive a $10 gift card valid at all three Tuscany Restaurant locations and the winner receives a $100 gift card and gets their pizza featured at all Tuscany Restaurants through the month of November.
Get creative and let your taste buds do the talking! Celebrate National Pizza Month and Pitch Your Pie to Tuscany Restaurant to become a Chicago pizza legend.