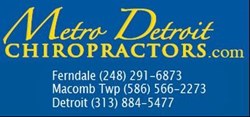 (PRWEB) October 13, 2013
Due to the large number of people who are suffering from joint pain, joint replacement surgery, and operations involving the knees and hips, the campaign Chiropractor Christopher McNeil and the other doctors of Metro Detroit Chiropractors aims to provide people the knowledge of practicing a simple lifestyle to prevent experiencing joint pain and make it healthier for a long time.
As a way of honoring the National Chiropractic Health Month, Dr. McNeil provided various tips on living a vertical life and keep life pain free. The tips include standing up once in a while, stretching the legs and taking a short walk of about 30 minutes a day. He also mentioned that taking micro-breaks can also help in releasing tension, through stretching the neck, wrists, arms, legs and back. Dr. McNeil said that people do not have to be a pro athlete to workout, just a minimum of 30 minutes of exercise for about 3 or 5 days in a week can also help. Most importantly, he did not forget to include eating a healthy diet, which consists of healthy fats, vegetable and fruits. He reminded that these foods can reduce joint pain through decreasing the inflammation of joints.
Through the simple changes that people have to go through and avoiding certain foods that contain white flour, refined sugar and red meat, it is possible to attain a healthier life. Moreover, as a part of the campaign, Dr. McNeil and other experts want to encourage people of getting off their chair and spend more time on moving each day.
American Chiropractic Association is the sponsor of the National Chiropractic Health Month, which is held countrywide and is practiced every October. The chiropractic campaign is sure to help in raising the awareness of the public with learning the advantages of chiropractic care and its positive approach on improving wellness of one's health.
According to Dr. McNeil, "No one is doomed to invasive joint replacement surgery in order to remain active and pain-free well into one's golden years."
"A doctor of chiropractic can help by providing exercise and lifestyle recommendations, nutritional advice, and natural approaches to managing aches and pains. Just a few healthy
For more tips on living a life pain-free and healthily, visit http://www.metrodetroitchiropractors.com. To get more information on Dr. Christopher McNeil Chiropractor, feel free to visit http://www.wegotyourback.net/Macomb-Township-Chiropractor-Dr-Christopher-McNeil.html.