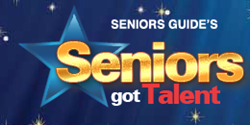 Every video has done a great job of illustrating the vibrancy of the retirement lifestyle.
(PRWEB) October 14, 2013
With a little more than two months left to vote, the competition of Seniors Guide's SENIORS GOT TALENT is heating up.
Adults age 55-plus, retirement communities, home health care, and other senior organizations can still enter their videos in SENIORS GOT TALENT through Friday, December 27, 2013. However the focus turns to Tuesday, December 31, 2013, when current videos will look to increase the total vote counts they need to win cash prizes.
"We've already received more videos this year than last year, and we know of several more who are trying to meet the December 27 deadline for entry," says Jeff Hartman, Marketing Strategist for Seniors Guide and http://www.SeniorsGuideOnline.com.
"Every video has done a great job of illustrating the vibrancy of the retirement lifestyle," he adds.
The 'age is just a number' theme seems to span across all entries – from seniors dancing to the songs of popular singer Adele, to participating in flash mobs and Harlem Shakes. Videos contributed by retirement communities illustrate that life at their community contributes to a fun, happy and healthy lifestyle.
To further enhance retirement living, Seniors Guide will award prize money to older adults or their health and wellness programs.
"All Seniors Guide cash prizes will be made payable to the company that submits the video or to the senior talent themselves – as long as they meet the age requirement of being age 55," Hartman says.
Videos with the most total votes, will be awarded the following cash prizes: 1st Place $1,000, 2nd Place $500, and 3rd Place $250.
The first-place winner of 2012's SENIORS GOT TALENT, Pinebrook Senior Living, is back and eager to win once again.
"We are in the process of creating a Gift Shop where we would sell artwork, crafts, and jewelry that that our talented residents have crafted and painted," says Christine Ryan, executive director for Pinebrook.
If Pinebrook wins a cash prize this year, "money would be used to purchase display furniture for the new Gift Shop," Ryan adds.
Several competitors are interested in donating any winnings to charity, including Coordinated Services Management – a retirement company that has assisted living, skilled nursing and communities offering rehabilitation in the Virginia area including Richmond, Lynchburg and Roanoke.
Coordinated Services Management's video features senior residents doing a "Rockin" Flash Mob to benefit the American Humane Association's Red Star program. Prize money from SENIORS GOT TALENT would be donated to further benefit that charity.
Musician Ed Pettersen from Chesterfield, Va., submits his original song and video, "That's All I Need to Know."
"If I won, I'd use the money to enhance the music program at church, where I'm the music director," Petterson says.
Seasons Retirement in Cincinnati, Ohio, is a continuing care retirement community offering assisted living, lndependent living, skilled nursing and rehabilitation. Kari Shields, Seasons marketing assistant, would like to throw a party honoring Seasons residents, or help fund the community's new drama club.
"It is [the resident's] money, so we are going to allow them to vote on how it should be spent," says Shields.
This year's SENIORS GOT TALENT, which is sponsored by Brookdale, is Seniors Guide's 3rd Annual talent showcase highlighting the vibrancy of senior living.
Seniors Guide, a Richmond, Va.-based company publishes Seniors Guide magazines throughout Cincinnati, Ohio; Dayton, Ohio; Indianapolis, Ind.; Raleigh-Durham, N.C.; Richmond, Va.; and Roanoke-Lynchburg, Va., and features a correlating website of SeniorsGuideOnline.com. Seniors Guide's mission is to help seniors and their families find the information they need on options available in senior housing, senior care, assisted living, independent senior living, retirement communities and other retirement living needs. Seniors Guide also has resources at http://www.HomeCareChoice.com for Cincinnati, Ohio; Dayton, Ohio; Raleigh-Durham, N.C.; and Richmond, Va. Ross Publishing, Seniors Guide's parent company, began in 1991 and has been publishing helpful, free publications and websites ever since.
Brookdale Senior Living Inc. is a leading owner and operator of senior living communities throughout the United States. The company is committed to providing senior-living solutions within properties that are designed, purpose-built and operated with the highest-quality service, care and living accommodations for residents.
Currently, Brookdale operates independent living, assisted living, and dementia-care communities and continuing care retirement centers, with more than 650 communities in 36 states and the ability to serve approximately 67,000 residents. Through its Innovative Senior Care program, the company also offers a range of outpatient therapy, home health and personalized living and hospice services. For more information, visit http://www.brookdale.com.