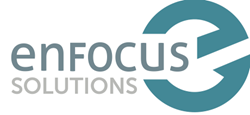 Many software programs were designed to produce documents and spreadsheets -- not to power the data-intensive nature of requirements definition and management.
San Antonio, TX (PRWEB) October 16, 2013
In line with the company's commitment to professional development, Enfocus Solutions is raising awareness about what's needed to create and manage complete requirements that result in informative business analysis and measurable outcomes.
The business analysis solution architect is spreading the word via email and social media about the challenges businesses face in using the wrong technology to handle the important task of requirements development.
"Requirements development is an iterative and incremental process that involves elicitation, analysis, development, elaboration, and refinement," said Enfocus Solutions Chief Visionary Officer John Parker. "Many software programs were designed to produce documents and spreadsheets -- not to power the data-intensive nature of requirements definition and management," he said.
In a campaign launching this week, Enfocus Solutions is sharing "10 Reasons Spreadsheets Don't Work for Requirements." Enfocus Solutions will focus on email, Facebook, Google+, and Twitter to spread the word, knowing that more and more business professionals are getting quick, relevant information via these channels.
Accordingly, the company's newest thought leader is Director of Business Analysis Paul Mulvey, who was recently named one of the Top 25 Most Influential Business Analysts on Twitter. He is increasingly followed under @PaulTheBA.
"We want to reach business leaders where they are, and we want to help them succeed," said Parker. "Getting them resources and knowledge is part of our commitment to providing professional development, and, of course, to helping people understand why they need the right dynamic, powerful tool if they really want to drive solutions."
The new resource is designed to do just that, clearly outlining the 10 reasons why using the wrong technology can be detrimental. Among them is that requirements requires definition in layers, said Parker.
"For good outcomes, requirements should be defined in layers. It is best to start with a set of features, and then use the set of features to gather functional and non-functional requirements to be satisfied by the planned solutions," he said.
Where word processing and spreadsheet programs fall short is that additional elaboration and details by different people must be added to the functional requirements as needed. Such programs do not have the functionality to define requirements in layers, making it difficult to align the final solutions with the needs of the project. This can result in delays, failed projects, or misuse of valuable resources.
The complete top 10 list will be promoted on Facebook, Google+, and Twitter @Enfocus Solutions and under #WhySpreadsheetsDon'tWork. It is also available here. Enfocus Solutions is encouraging businesses to download and share it with their business analysts, requirements professionals, IT directors, and project managers.
Enfocus Requirements Suite™, is the only business analysis solution that combines software with a dynamic collaboration environment and a professional development platform. Through the built-in platform, users can access resources, templates, expert advice, and a complete business analysis methodology, empowering them to mitigate potential risk and drive more business value.
About Enfocus Requirements Suite™
Enfocus Solutions Inc. helps businesses spur innovation, save time, and cut costs by capturing, managing, and leveraging the requirements of their people, processes, and technology. Its flagship product, Enfocus Requirements Suite™, a web-based tool, automates business analyses and requirements management best practices to enable successful enterprise IT project delivery. The tool is the only application available that permits and encourages stakeholders to directly contribute and collaborate with IT project teams. Enfocus Solutions Inc. is a privately held company headquartered in San Antonio, Texas.