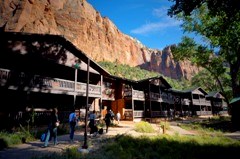 Existing reservations starting tomorrow are still valid, but we do have plenty of availability for last-minute guests.
Zion National Park, UT (PRWEB) October 11, 2013
Zion Lodge in Utah's Zion National Park will reopen Saturday, Oct. 12 when the park itself resumes operations.
The State of Utah is providing funds to the National Park Service for park staffing.
"We are extremely pleased that we will be back on the job Saturday," said Daisy Hobbs, general manager of the lodge. "Existing reservations starting tomorrow are still valid, but we do have plenty of availability for last-minute guests."
Visitors wishing to make a same-day reservation may call the lodge directly at 1-435-772-7700. The lodge will also have staff in the National Park Service visitor center who can accommodate walk-in requests.
The shuttle in Zion Canyon will be operating, but confirmed guests may drive to the lodge by showing a pass at the gate. Guests holding existing reservations have already received their passes in the mail. Last-minute guests will be issued a pass at the visitor center.
Zion Lodge is operated by Xanterra Parks & Resorts. Advance reservations may be made online at http://www.zionlodge.com or by calling 1-303-29-PARKS (1-303-297-2757) or toll-free at 1-888-29-PARKS (1-888-297-2757).
The lodge's Red Rock Grill will open Saturday at 7 a.m. for breakfast, and the Castle Dome Café will open at 10:30 a.m. for lunch. Both foodservice facilities will operate at their normal hours.
Because lodge rooms and cabins are unoccupied, guests arriving on Saturday will be able to check in throughout the day and not wait until the normal 4 p.m. check-in time.
Zion Lodge offers 82 rooms, 40 cabins, a restaurant, and cafe and gift shop.
Zion National Park is very popular in October with comfortable temperatures and leaves changing colors. Photographers are especially fond of the park at this time of year.
The park is renowned for its sightseeing and hiking and is open year round. Zion National Park's world-class hikes include The Narrows up the Virgin River and Emerald Pools not far from Zion Lodge. The climb up to Angels Landing features switchbacks called Walter's Wiggles, and the last half-mile portion of the hike is truly a white knuckler. In all, there are some 200 miles of picturesque trails in Zion National Park.
Other exciting activities at Zion include climbing, backpacking, canyoneering and bird watching. Zion Canyon and the rest of the park are also renowned for their texture and light that appeal to photographers of every level.
---
Known for its "Legendary Hospitality with a Softer Footprint," Xanterra Parks & Resorts® entities include lodges, restaurants, tours and activities in national and state parks and resorts as well as a cruise line, railway and tour operator. Xanterra Parks & Resorts has operations in the Grand Canyon, including Grand Canyon Railway in Williams, Ariz., and The Grand Hotel in Tusayan, Ariz.; Yellowstone; Zion; Crater Lake; Glacier, Rocky Mountain and Petrified Forest National Parks; Mount Rushmore National Memorial; Furnace Creek Resort in Death Valley National Park and five Ohio State Park Lodges as well as the Geneva Marina at Ohio's Geneva State Park. Xanterra Parks & Resorts also operates Kingsmill Resort in Williamsburg, Va., Windstar Cruises, VBT Bicycling and Walking Vacations and Austin Adventures.
Xanterra Parks & Resorts
6312 S. Fiddlers Green Circle
Suite 600 North
Greenwood Village, CO 80111
Media contact:
Mesereau Public Relations
1-720-842-5271
mona(at)mesereaupr(dot)com
tom(at)mesereaupr(dot)com