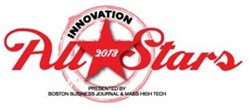 Economics Meeting Ecology
Billerica, MA (PRWEB) October 15, 2013
GXT Green has been recognized as the winner in the Product Category in the Annual Boston Business Journal/Mass High Tech Innovation All-Stars Competition. The BBJ & MHT All-Stars Program recognizes Greater Boston's most innovative and enterprising technology companies and entrepreneurs. Companies are selected for their success fueling the regional economy, attracting VC funding and growth capital, adding jobs, and transforming every area of technology.
GXT Green's charter is encapsulated in their tagline "Economics meeting Ecology." They help clients achieve their sustainability goal through a focused set of products and services that includes:

ECOgrade™ photodegradable bag, which replaces plastic and paper bags with GXT Green's patented ECOgrade Calcium Olefinic Glucosate bags, a non-toxic, cost-competitive, sustainable alternative that solves the plastic pollution problem.
ECOgrade reactive agent, the underlying ingredient for ECOgrade bags, which is a low-cost, sustainable alternative to plastic resin, with significantly reduced environmental impact.
ECO-R3SP™ suspension packaging which replaces Styrofoam and polystyrene packaging with a "zero-waste" sustainable alternative.
Sustainability consulting services to help companies reduce their energy use and carbon footprint with economically viable sustainable services, along with marketing programs to leverage their successes.
Management and marketing of verified Carbon Offsets, most notably those based on REDD+ forestry projects.
This award comes on the heels of GXT Green's recognition over the last two months as Massachusetts Chamber of Commerce "Business of the Year", and recognition as the Silver award winner in both the "Product of the Year" and "Most Innovative Product of the Year" categories in Best in Biz Awards 2013 International.
Manas Chatterjee, CEO of GXT Green commented "We are excited to be recognized by the Boston Business Journal and Mass High Tech and proud to be a member of the vibrant Boston Innovation economy".
GXT Green will be highlighted in a special supplement to the Boston Business Journal in November, and the award will be presented at the annual Innovation All-Stars Banquet on November 20, 2013, at the Harpoon Beer Hall, 306 Northern Ave Boston MA 02210. Information can be found and tickets can be purchased http://www.bizjournals.com/boston/event/78731.
About GXT Green
GXT Green, where " Economics Meets Ecology" is a leader in creating and leveraging strategies, services, and products that help the corporate community meet their economic and social sustainability needs.
GXT Green supports clients in three areas:

Driving improved profitability and sustainability through innovative products that address urgent environmental concerns such as plastic bags and Styrofoam packaging pollution. Products include ECOgrade™ photo-degradable bags; the underlying ECOgrade Reactive Agent additive which can be used as a cost effective and sustainable plastic resin alternative; and the ECO-R3SP zero-waste packing solution.
Designing and executing green marketing strategies to enhance corporate brands. Outstanding sustainability accomplishments are recognized as a public service through the GXT Green Seal Certification Program.
Completing the equation by developing and offering carbon offset credits derived from the highest quality carbon projects around the world. GXT Green is involved in development of REDD+ carbon offset forestry projects in several countries.
GXT Green and the ECOgrade bag have received recognition as Runner-up International Sustainability Consultancy of the year from BusinessGreen, 2011; Consumer Product of the Year from MassTLC, 2012; Innovation of the Year Finalist from SBANE, 2013; Silver Award Winner as Consumer Product of the Year and Most Innovative Product of the Year, Best in Biz Awards International, 2013; Business of the Year from the Massachusetts Chamber of Commerce, 2013, and Innovation All-Star Winner in the product category from Boston Business Journal/Mass High Tech, 2013.
GXT Green is a division of Global Exchange Technologies, Inc., which a global leader in technology, infrastructure and domain expertise that facilitates the establishment of next-generation financial and commodity exchanges. http://www.GxtGreen.com