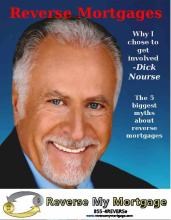 Salt Lake City, Utah (PRWEB) October 11, 2013
For seniors, a reverse mortgage is a viable option to supplement their retirement income. It allows them the opportunity to get tax-free cash in the form of a lump sum, monthly payments or annuity payments. While seniors are considering whether HECM loans in Salt Lake City are the best option, RMM is making the process easier and more streamlined for interested clientele. The company recently updated their online calculator, making it more accurate and efficient in calculating rates. The updated calculator allows seniors and their family to find out if they qualify and how much money they can receive.
A reverse mortgage offers solutions to aide retirement. For seniors over the age of 62 and living in a qualified residential home, this is proving to be a great way to use the equity they have already put into the house. It's paid back to them through either a lump sum or monthly payments and can be used to enrich and ease the stress of retirement. A reverse mortgage in Utah allows seniors to keep their homes and pass them onto their children as well. It can help with bills and expenses, giving retired individuals peace of mind.
The new calculator is designed to calculate whether or not an individual qualifies for HECM loans in Salt Lake City. It also calculates an approximation of the payment settlement available for the applicant. Using age, zip code, and home value, it accurately determines the amount for each individual. While the company has previously offered the calculator, these new results are the most accurate way for an individual to tell if they want to move forward through the process.
The benefit of the new calculator is that the results are instantaneous. Applicants don't have to wait for their inquiry form to go through; the estimate appears right after submission. It also comes with a no obligation guarantee. The main goal of RMM is to educate seniors on the effects of a reverse mortgage and determining if it is the right solution for each individual.
With retirement savings often being lost with the current market, a reverse mortgage in Utah is proving to be a viable option for seniors. The supplemental income and the benefits available are causing more individuals to look into it; not only for themselves but their families as well. For more information about scheduling a consultation, or to fill out the calculator, visit their website at http://www.mortgagereversecalculator.com.