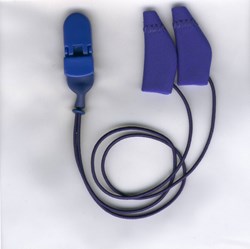 (PRWEB) October 15, 2013
"Necessity is the mother of invention" – that old familiar saying, believed to have first been uttered by Plato in ancient Greece, could not be any more relevant and up-to-date than in the case of Mark Rosal, whose devotion to his daughter and her special need resulted in a thriving industry that today addresses the special needs of many.
Soon after his second child, Shameera, was born in 1996, it became evident that she wasn't progressing normally, so Rosal and his wife, Assunta, had her tested and learned that she had Partial Trisomy18, a rare condition marked by cognitive delay as well as significant loss of hearing in both ears. Shameera began wearing behind-the-ear hearing aids at the age of two, but it quickly became apparent that Rosal would have to deal with a nagging problem – how to keep Shameera's hearing aids on her ears! Her cognitive issues made it hard for her to comprehend the purpose of the hearing aids, and that combined with the discomfort they caused her by their chafing and buzzing made her number one priority ripping them off as soon as her parents' backs were turned.
As Shameera grew older, she was able to better tolerate her hearing aids, but the discomfort and the anxiety about losing them persisted. When the much more expensive digital models came along to replace the analog type, Rosal worried even more about misplacement and possible loss of his substantial investment. The final straw came during a visit to Grandma when Shameera playfully hid her aids in a place where they couldn't be found for three weeks. Rosal decided to take action.
After pondering the problem and consulting with audiologists, Rosal hit upon the idea of enclosing the hearing aids in a double wall spandex nylon sleeve attached to a cord and clip. Not only would the instruments be secured, harmlessly dangling from her head if Shameera decided to remove them, but the sleeve would also protect the hearing aid from damage by dirt and moisture, preventing microphones from getting clogged and batteries from rusting, as well as shielding the instruments from wind-related noise. The sleeve material is skin-friendly, eliminating chafing for those with sensitive behind-the-ear skin, and even helps to soothe and heal previously irritated skin. To top it off the units are now available in a fashionable array of colors and patterns, from an inconspicuous beige to a daring shocking pink to a tri-colored swirl pattern for adventurous fashionistas. What many had once thought of as a social embarrassment has been turned into an attractive conversation piece that also functions to keep your hearing aid in tip-top condition.
While Ear Gear is for hearing-impaired persons of all ages, it is a must have accessory for infants, active toddlers, and school age children. It allows the wearer to participate in all types of activities, such as running, biking, sports, or any activity without fear of damage or loss, or, in the case of young children, of swallowing the instrument. At the other end of the age spectrum, Ear Gear is also valuable and inexpensive insurance against loss of the instrument for the elderly who may be afflicted by dementia and Alzheimer's.
Ear Gear hearing aid armor is acoustically transparent, and has no effect on directionality. It is also washable and reusable -- the average life span of Ear Gear is approximately 2 years. Ear Gear is available in models for all sizes of hearing aids, as well as for Cochlear Implants, Baha, and ITE (In-The-Ear) hearing aids.
Ear Gear is called "armor" because of the high level of protection it provides, and it is the only product on the market that covers all aspects of hearing-instrument protection, from security and safety to protection from the elements to comfort and the growing interest in fashion. Ear Gear is reasonably priced with most models costing under $30 including a one year unconditional guarantee. Audiologists and hearing professionals may obtain free samples by filling out a simple form on the Ear Gear web site
Today Ear Gear serves a global clientele from many countries including Denmark, Norway, Spain, France, Italy, Greece, Austria, and Singapore. Distributorships have been established in Canada, USA, Germany, Japan, UK, Israel, and Taiwan, among others.
Ear Gear has sold over 200,000 units since coming to market in 2005. With hearing impairment affecting 10% of the world's population hearing aid sales are steadily rising and the future looks bright for Ear Gear.
Ear Gear has come a long way from its humble origins in Mark Rosal's Lake Country, British Columbia home. For Mark, the personal satisfaction of contributing to the well-being of the hearing-challenged makes his success all the sweeter: "My daughter's hearing aid experience was really improved by Ear Gear and I am so pleased that other children and adults around the world are being helped by my invention. It's an old axiom but definitely true that if I can contribute in some way to the happiness of others, my own life is enriched."