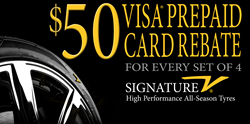 Now is a great time for customers to experience our new, class leading Signature V.
Mount Prospect, IL (PRWEB) October 15, 2013
Vogue Tyre and Rubber is giving back to its loyal customers and dealers with its "Signature Sales Event." The fall promotion offers consumers a rebate of $50 with the purchase of a set of four Vogue Signature V® Tyres.
"Now is a great time for customers to experience our new, class leading Signature V - Ultra High Performance Tyre with All-Season traction and save some money at the same time," said Kevin Goyak, Executive Vice President. "Our exceptional dealers are also excited and have ordered additional inventory to take advantage of this offer."
Goyak said the rebate is available from October 15th through December 7th at participating Vogue dealers nationwide and select online retailers. Details of the promotion can be found at http://www.voguetyre.com/promotions.
About Vogue Signature V ($50 Rebate): Vogue's new Ultra-High Performance Tyre was designed for the drivers of premium performance vehicles looking to combine V-Speed Rating, 60,000 mile warranty, all-season traction, VogueTech Comfort Ride design and VogueTech Whisper tuning for an exceptionally quiet and comfortable ride. Vogue Signature V also comes with Vogue's "30 Day Buy and Try" guarantee for added assurance for customers. For more information about the Vogue Signature V, please visit http://www.voguetyre.com/SignatureV.
The Vogue Tyre and Rubber Company's tradition for providing custom luxury tires for the most discerning customers has been alive for over 99 years. Vogue Tyre has been at the cutting-edge of performance design and technology and continues to provide customers with a distinctive tire with outstanding performance. Vogue Tyres has set industry standards and continues to raise the bar in this competitive industry. Known for inventing the whitewall tire design back in the early 1900s, Vogue has become the tire of choice for high-end vehicles and the discriminating motorists including celebrities and professional athletes. Today, Vogue Tyres has remained a leader in vehicle customization by providing custom tires, wheels, and accessories through new car dealerships, select tire dealers, and company-operated custom centers. Being at the forefront of new trends and design, Vogue Tyres was the first to introduce a 18" and 20" whitewall and gold stripe tire for use on passenger cars. The tire of choice for Cadillac owners, Vogue has branched out to include a wide range of applications for today's market, such as Lexus, Infiniti and Mercedes. Catering to all automotive owners Vogue Tyres are not just designed to perform, but to look good while doing it. Each tire is designed to provide the perfect look and fit while not compromising performance or comfort. Vogue Tyre owners want to make a statement and owning a set of Custom Built tires is an investment in your vehicle that separates you from everyone else.