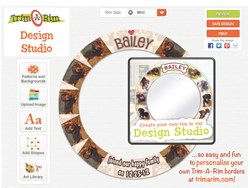 ...change the borders to match seasons, holidays and personality...
Reston, VA (PRWEB) October 14, 2013
Innoversa, maker of the popular, patent-pending Trim-A-Rim™ reversible mirror and magnetic whiteboard, has launched its free new Design Studio, an exciting online personalization program.
When people give Trim-A-Rim to their family and friends, the recipients can visit the company's website to design and print their own interchangeable border ring inserts to place inside the clear frame. This gift is not only handy for homes and offices, it's also guaranteed to please anyone. Users will have so much fun adding personal touches to match their own hobbies, interests and decorating style.
A variety of colorful border rings in the Trim-A-Rim package make this gift ready-to-use. A handy tracing template is included for creating rings from scrapbook paper, gift wrap or any other decorative paper. Trim-A-Rim owners can also choose from dozens of pre-designed rings ready for download. And now, Design Studio gives users even more options for creating a truly custom-designed frame – limited only by their imagination.
The Design Studio library is fully-loaded with designer illustrations, themed clip art, shapes and background patterns, a variety of fonts, plus a color-picker. Users can also upload their own photos or artwork to make rings that commemorate a special event, their cherished pets, friends and family, or their favorite celebrities and sports teams.
Design Studio is so user-friendly, even children can learn how to navigate it quickly, as seen in this video demonstration by a bubbly eight-year-old girl. Teens and students love the app for creating rings to celebrate their school colors. Nothing shows off school spirit like a custom-designed locker mirror or a message board for the dorm room.
Design Studio's sharing feature allows users to email or post their designs on Facebook, Twitter or Pinterest. Border ring designs can be progressively communal – each person adds an element and passes it on. It's a great group activity for office co-workers, birthday parties or family reunions.
The functional versatility of Trim-A-Rim also makes it the perfect gift. Use the mirrored side in the bathroom, bedroom, school locker, or office cubicle. Switch it over to the whiteboard to use on the fridge, bedroom door, next to the phone, or as an entertaining game board for kids in the car to draw on or play Tic-Tac-Toe or Hangman. It's perfect for making themed signs and creating unique holiday decorations.
Trim-A-Rim promises to be a big hit for anyone this holiday season!
About Trim-A-Rim and Innoversa:
Trim-A-Rim, a circular, reversible mirror and magnetic whiteboard with a customizable clear frame, is available in two diameters – the 10.25" Full-size and 7.5" Mini. Easy to hang by the magnets or keyhole on the back, Trim-A-Rim comes with a dry-erase marker, two colorful note magnets, a variety of pre-printed insert rings and a tracing template. Trim-A-Rim is constructed of durable, high-quality materials built to last, and is independently safety-tested and certified. It was designed and developed by Innoversa Corporation, a Reston, Virginia company committed to creating innovative and versatile consumer products.
Praise for Trim-A-Rim:
"Our family loves the Trim-A-Rim! I put our 'honey-do' list on it for my wife and that has changed our life! Also my boys take pride in making an inspirational and creative drawing or saying on it every day!" — Michael Stewart
"The fact that you can change out the border to match any décor is really awesome. Also since my kids don't have typical names, personalized items are hard to come by, so having something that I could personalize for them was a huge bonus to me!" — Donna Stevens
"I like how you can change the different rims - the more effort you put into it, the more fun it will be. I want to change the rims for seasons and fun occasions." — Elena Finer
""I like that you can change the borders to match seasons, holidays and personality. It's super fun and cool!" — Elana Schaer
"I like that it can work in children's rooms with different themes or even look nice in your living room. Also it's a great craft activity. Everything is appealing -- you can spend a little time on it or a lot - I love it!" — Sonia Wyrough
"I love that you can change the design. I also love the designs that came with the Trim-A-Rim. Very well labeled and easy to understand how it works. Showed my mom when I got it and she was so excited about it like me. She said they would be awesome graduation gifts." — Lindsey Rosenberg
For more information contact: Philip Fleet - 703-389-9660 - pfleet(at)innoversa(dot)com