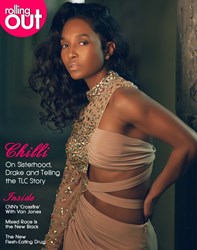 Atlanta, GA (PRWEB) October 15, 2013
It's been a little over 20 years since Tionne "T-Boz" Watkins, Lisa "Left Eye" Lopes and Rozonda "Chilli" Thomas first crashed into the spotlight as the spunky pop, R&B and hip-hop trio TLC.
Having recently spoken with Chilli who's preparing for the release of VH1's "Crazy, Sexy, Cool: The TLC Story," entertainment writer Todd Williams says she sounds like a woman who's learned of the power that comes from perseverance. And she's excited to see TLC's story being told to a new generation.
"I'm very proud of [the film]" she says. "It was something that I've always wanted for my group. The right time presented itself, and so that's why it's happening. I just watched one of the last edits this past weekend and it was exactly the way I wanted it."
A lot has changed since TLC dominated the pop charts.
"I'm very happy that they can go to YouTube and discover all of our videos and stuff," she says. "All of that is what helped to introduce [younger fans] to us. Especially the girls
Visit rollingout.com to read the interview in its entirety. Be sure to check out the exclusive photo shoot and video footage with celebrity photographer DeWayne Rogers.
About rolling out Magazine:
Rolling out, the nation's largest free urban weekly, is a digital and print magazine that focuses on the black experience in response to entertainment, politics, fashion, culture, sports and lifestyle points of interest. Headquartered in Atlanta, rolling out is positioned as the voice for the African American experience, using its newspaper as a platform in the marketplace to express urgency for education reform, and to document entrepreneurial endeavors and other relevant issues in the Diaspora. For information on rolling out, please log on to rollingout.com.