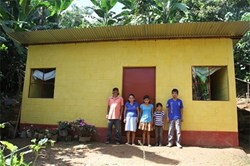 Because the need being addressed isn't a reccurring one, a new home represents a multigenerational benefit.
Riverside, CA (PRWEB) October 28, 2013
Americans enjoy doing good but life is hectic. External factors compete for our precious time and resources, and there is only so much time to go around.
That's why Americans love an unexpected benefit that gives something back. Maybe it's an unexpected upgrade. Maybe it's an incremental volume increase, like a buy-one-get-one offer. Either way, value-adding features are appreciated, especially when they don't have to be sought out. And it gets even better when it comes at no extra cost.
This is why social enterprises are becoming increasingly popular each day. Social enterprises take ordinary items or services that people purchase every day and turn them into extraordinary benefits for the environment or other people. This makes doing good easier and more abundant for everyone by linking common activities to meaningful additional benefits that people can feel good about.
So this all begs the question: What is the largest scale purchase that can be made on a one-to-one philanthropy basis, that won't fit in a garage? Answer: a home.
All of this is why consumers will love the Home For Home™ program. Its mission is to leverage the U.S. real estate market to improve housing for the world's poorest families. It takes everything consumers love about the unexpected benefits of social enterprises and makes those benefits even bigger and more impactful. The Home For Home™ program takes the biggest, most meaningful purchase that an average American makes in their life - a home - and turns it into another home for a family in need - making it the highest scale one-for-one transaction in the world of common transactions.
Because homes are such big purchases, the unexpected incremental benefit is proportionately just as big for clients and the families they help - and yet it comes at no additional cost.
According to the National Association of Realtors®, 4.7 million homes were bought and sold in 2012. POWERof2 Realty, the team driving the Home For Home™ program, believes that as many as 5.9 million new homes could have been built for the world's poorest families in 2012. This accounts for sellers, buyers, new construction, FSBOs (for sale by owners), and other factors.
Homes are currently being built in rural Guatemala, however, research is being done to expand this philanthropy to Honduras, El Salvador, Nicaragua and Cambodia. Based on high level projections, if buyers and sellers partnering with a real estate agent were to participate in the Home For Home™ program, the program could adequately house the entire country of Guatemala in just 5 months and potentially Cambodia within the same year – at no additional cost to the consumer.
Because the need being addressed isn't a reoccurring one, a new home represents a multigenerational benefit. This makes Home For Home™ the most financially viable and sustainable model for improving housing for the world's poorest families.
To learn more about this social enterprise, go to http://www.powerof2realty.com and share this with someone who is starting the process of buying or selling a home.