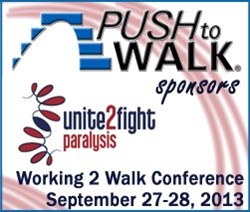 Riverdale, NJ (PRWEB) October 15, 2013
Unite to Fight Paralysis began holding W2W in 2006 to bring research scientists, practitioners, investors, spinal cord injury (SCI) survivors and family members together. Attendees travel from all around the world to attend this annual conference to gain greater knowledge about the latest advancements in research and network with others. During the symposium it was made apparent that studies and trials need to get done, but there is a lack of funding. What little funding there currently is often is spent on quality of life grants or organizations who aide in the care of those with SCI, leaving less money for "cure" research.
The conference touched upon many subjects including the lack of chronic research. Most researchers focus on acute SCI because it is less risky from a business standpoint. It is also difficult to explore chronic animal models of SCI because the injured animals must be cared for longer, therefore emphasis remains on acute. Without chronic animal models, there is no justification of clinical trials for chronic human SCI. There was also mention of advances being made in brain-controlled neuro-prosthetics, including implantable FES devices. This could help people with tetraplegia re-gain the ability to use their triceps or grasp things with their hands.
Push to Walk staff also learned that potassium channel blockers and electromagnetic stimulation offer hope to maximize the potential of axons that were unaffected during an injury. In testing, functional progression has been seen on rats when electromagnetic stimulation was used on their spinal cords in conjunction with exercise. During early clinical trials potassium channel blockers showed modest improvement in SCI, yet showed robust improvements in Multiple Sclerosis. This realization has pushed researchers to begin working on potassium channel blockers that would be more effective in SCI and hopefully lead to quick improvements in function and quality of life.
Working 2 Walk covered the continuation of research into the "glial scar", the area of the spinal cord where cells called glia form initially to try to prevent further damage immediately after the injury. However, these cells stay at the injury site and prevent further recovery. If the glial blockage can be cleaned up by using enzymes such as chondroitinase, it may offer room for new axons to grow and make functional connections below the injury site. Push to Walk training staff learned about many new advancements and ongoing research, which is great for a facility like theirs to be aware of.
Push to Walk is able to cover only about 65% of its operating costs through client fees, and relies on fundraising events to help make up the difference. "Continuing education is of utmost importance, which is why it was great to have almost all training staff present this year due to the proximity of the symposium. Conferences like Working 2 Walk can only be attended with the help of fundraising," explains Push to Walk founder, Cynthia Templeton.
Donation opportunities are available on the Push to Walk website: http://www.pushtowalknj.org. For more information, please contact Stephanie Lajam at (862) 200-5848 or slajam(at)pushtowalknj(dot)org.
About Push to Walk
Founded in 2007, Push to Walk is an organization that provides individualized workouts and resources to people with spinal cord injuries and other forms of paralysis to optimize current quality of life and to prepare for future medical advancements. It is the only program of its kind in the New York- New Jersey area. Push to Walk's rigorous one-on-one workout approach challenges clients to reach their personal goals and achieve maximum independence, leading to greater success and fulfillment in their personal and professional lives. A 501(C)3 non-profit, Push to Walk is located in Riverdale, New Jersey. Visit http://www.pushtowalknj.org to learn more.