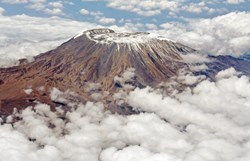 Climbing Kilimanjaro takes no technical skills, and can be accomplished by anyone who is reasonably fit.
Chicago, IL (PRWEB) October 14, 2013
Ultimate Kilimanjaro, the #1 Kilimanjaro guide service, has completely sold out all group climb dates to its 2013 expedition schedule. The final space was booked two weeks ago, closing out the 2013 season.
Ultimate Kilimanjaro guides more than 1,000 climbers to Africa's highest peak annually, offering group climbs and private climbs year-round. Mount Kilimanjaro is 19,340 feet high. Located in Tanzania, Kilimanjaro is the tallest free standing mountain in the world and is the highest mountain in Africa.
"It's been an incredible year," said Expedition Coordinator Brett Fischer. "Typically we've had open group climbs up until the last couple weeks of December. Now, we have to direct clients to next year's group climbs."
But those wishing to climb Kilimanjaro in early 2014 need to act fast, as most of Ultimate Kilimanjaro's group climbs are already full. The group climbs are scheduled during Kilimanjaro's dry seasons, the best time to climb, and are limited to only 12 climbers.
"We keep the group's small so that our guides can monitor each climber. Kilimanjaro is at a very high altitude and many people will get some form of altitude sickness. It's important given the risks on Kilimanjaro that the group size is manageable," said Fischer.
Ultimate Kilimanjaro notes that most visitors book their climbs four to six months in advance, which gives them sufficient time to prepare for their climb. Preparation includes purchasing flights, getting vaccinations, gathering the proper gear, and physical training.
"We're definitely aware of the availability of climbs because we want our customers to have some options when it comes to choosing dates and routes," said Fischer. "When trip dates fill, or are close to being filled, we try to open new dates around the same time, but that isn't always possible."
One factor that limits how many group climbs can be opened is the availability of Ultimate Kilimanjaro's esteemed guides. Ultimate Kilimanjaro's guides are all licensed by Tanzania National Park. Most have worked on the mountain for more than a decade, climb Kilimanjaro a dozen or more times per year, and have summited Kilimanjaro over 100 times in their lifetime.
Climbing Kilimanjaro takes no technical skills, and can be accomplished by anyone who is reasonably fit. Mount Kilimanjaro can be climbed in as little as five days, but seven or more days is highly recommended for proper acclimatization to the high altitude. Kilimanjaro climb prices range from $1,915 to $2,155 for the group climbs on seven and eight day routes, including hotel accommodations pre- and post-trip.
About Ultimate Kilimanjaro
Ultimate Kilimanjaro is a US-based company that specializes in serving clients who are interested in safe, small-party climbs on Mount Kilimanjaro. Visit http://www.UltimateKilimanjaro.com for the most complete and accurate information for anyone interested in climbing Mount Kilimanjaro.