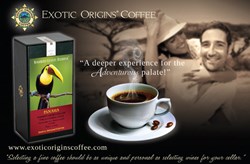 "Selecting a fine coffee should be as unique and personal as selecting wines for your cellar"
San Francisco, California (PRWEB) October 24, 2013
Wine.com hosted Exotic Origins Coffee for an educational coffee experience in celebration of their historic relationship. The company's founders and staff enjoyed a ceremonial tasting of indigenous Ethiopian Buna Hawisa from the birthplace of coffee, and more. The event was led by international coffee expert, Willem Boot.
Scott Plail, Founder & CEO of Exotic Origins Coffee, presided. Plail states, "Wine.com Founder Michael Osborn understands our vision, lifestyle trends, and our passion for three things: coffee quality, loyal customers and innovation to provide global solutions for economic growth in coffee." Wine.com will serve and ship select Exotic Origins coffees to millions of customers, from casual enthusiasts to collectors to Fortune 100 companies.
Exotic Origins Coffee has taken their entire coffee portfolio to a fine wine level by providing precision roasted coffees from individual estates. Each lavish, limited-edition package includes details about its origin and history, along with detailed proprietary cupping notes. "We have taken this a step further by offering a truly unique wine and coffee pairing system" explains Priscilla Broward, Exotic Origins' VP Sales & Marketing, continues, "The system recommends an Exotic Origins Coffee based on the individual customer's wine tasting preferences, which we match up with our coffee cupping notes."
Wine.com will also pair 90+ wines and portfolio coffee selections from Exotic Origins for corporate gifts. Customers will enjoy convenient delivery with a customer experience second to none.
Exotic Origins Coffee is available for purchase from the company website and through Wine.com starting November 2013.