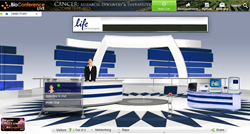 Yorba Linda, CA (PRWEB) October 14, 2013
Cancer: Research, Discovery, and Therapeutics is the newest in a full line of virtual conferences presented by BioConference Live, the premier producer for online events and webinars. BioConference Live makes it easier and more cost-effective for the cancer research community to come together online through live video webcasts and real-time networking. BioConference Live attendees learn new concepts, tools and techniques that they can apply to research and diagnosis. Attendees can earn free CME and CE Credits.
BioConference Live presents two honored speakers in October: Dr. Nicola Normanno, director of the Laboratory of Pharmacogenomics at the Centro do Ricerche Oncologiche di Mercogliano (a satellite center of the Instituto Nazionale dei Tumori of Naples, Italy), will present a keynote: Building an Ion AmpliSeq™ Colon and Lung Cancer Panel –consortium development of a tool for clinical research applications, on October 16th at 6am PT. The knowledge of molecular alterations involved in colon carcinoma (CRC) and non-small-cell lung carcinoma (NSCLC) has significantly increased in the past few years. Molecular subgroups of tumors carrying mutations in druggable genes have been identified in CRC and NSCLC. In this respect, the availability of approaches that are compatible with small amounts of input DNA from FFPE tissue and that allow a rapid screening of a large number of somatic mutations is definitely needed. Dr. Normano will address these needs and the plans of the OncoNetwork Consortium.
Dr. Milan Radovich, assistant professor at the Indiana University School of Medicine, will discuss transcriptome sequencing in translational oncology research on October 17th at 1pm PT. Genome sequencing technologies have enabled a rapid expansion into understanding cancer biology, drug development, and treatment resistance. A powerful application of these technologies is the ability to quantitatively interrogate the coding and non-coding components of entire transcriptomes. This keynote will detail how research in his lab has harnessed RNA-Seq on tumor tissues to reveal potentially efficacious drug targets and implement rational drug combinations in triple-negative breast cancer.
In addition to these two respected speakers, BioConference Live will also feature:

Dan Rhodes, PhD, Head of Medical Sciences Informatics, Life Technologies: Dr. Rhodes has a 12-year track record in cancer genomics and bioinformatics, with a significant focus on building systems to enable cutting-edge cancer research. He will be giving a keynote talk titled: A Bioinformatics Approach to Clinical Sequencing, on October 17th at 6am PT.
Stephen Jackson, PhD, Associate Director GA Applications, Life Technologies: Dr. Jackson will present a highly precise copy number variation analysis of HER2 using digital PCR for cancer research on October 17th at 2pm PT.
A full agenda and speaker list can be found at: http://www.bioconferencelive.com
About BioConference Live:
Founded in 2009, BioConference Live's vision was to connect the scientific world leveraging a unique virtual platform, discovering meaningful collaborations across geographic boundaries and fields of expertise. BioConference Live has grown into the world's largest producer of virtual events within the Life Sciences and Clinical Diagnostics community. LabRoots is the owner and producer of BioConference Live, and is the leading scientific networking website designed to connect all science verticals. For more information, visit http://www.labroots.com or follow them on Facebook, Twitter, LinkedIn, or Google+.