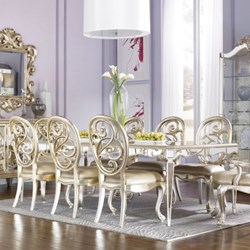 American Drew Furniture
Los Angeles, CA (PRWEB) October 13, 2013
The name alone – Jessica McClintock – evokes a sense of romance and creativity. Jessica McClintock collections are the epitome of those romantic and creative design elements found in today's home furnishings trends. Add to that a global presence, and a versatility is introduced that's particularly attractive to today's consumers. DA Stores is proud to announce its partnership with Jessica McClintock has been expanded.
As part of that expansion, the Los Angeles company now offers the Boutique Collection by American Drew. "We are quite happy to now offer to our customers even more of the awe-inspiring contemporary lines and curves that define this artist's style. It was a natural evolvement and we're sure our customers are going to love this collection as much as we do," said a DA Stores spokesperson.
Along with this collection, which includes more than 45 pieces, other Jessica McClintock American Drew collections are available on the DA Stores website and include Jessica McClintock Couture, Sedona, Laurel Springs, Bob Mackie Signature and Barrington House – just to name a few.
With a striking combination of contemporary ideas, cutting edge design elements and attention to detail, this modern brand has bridged the different styles that are popular today and presents them in such a way that everyone is drawn to them. In the Boutique Collection, consumers will see contrasting finishes, dramatic wood beveling and a host of small details that really set the collection apart. Finials, spherical shapes, distressed wood finishes – there's something for everyone.
The award winning company both pushes the envelope while also paying homage to the intricacies that are so important to a modern consumer's tastes. Especially in this new collection, there exists a rugged and exposed presentation, but you can be sure it doesn't distract from the softer side of the furniture.
"We invite our customers to explore the many Jessica McClintock tables, desks, chairs and bedroom collections," the spokesperson said. With free shipping offers and a rewards program, it's never been easier to own modern home furnishings.