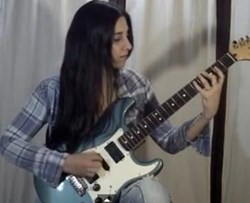 (PRWEB) October 12, 2013
Alejandra first plays the Vernon Reid riff, which is based around a G7 chord, at its proper speed, then slows it down for easier learning. She also plays a slight variation example. Note that the riff alternates between the time signatures 4/4 and 3/4. Like many riffs, it seems difficult at first, but by using a metronome and starting slow, the student can gradually build up speed. After getting the riff down, try adding new ideas to it to build an individual style. There is a link to printable rhythm guitar tabs written both in music notation and in tablature.
Living Colour, an American rock band from New York City, was formed in 1984 by British guitarist Vernon Reid. Their music is a creative fusion influenced by free jazz, funk, punk, hip hop, hard rock, heavy metal and even electronica. The song "Cult of Personality" won the Grammy Award for Best Hard Rock Performance in 1990. They were also named Best New Artist at the 1989 MTV Video Music Awards and their second album Time's Up won the Grammy for Best Hard Rock Album. After going through many personnel changes and disbanding in 1995, Living Colour reunited in late 2000.
Hear more of Alejandra's own masterful playing on recordings by the progressive metal band Inventio and on her own projects, which include full helpings of her sweeping, string-skipping and tapping expertise. Enjoy and learn more from Alejandra and all the teachers at Guitarcontrol.com in the many free guitar lessons at http://www.youtube.com/guitarcontrol.
GuitarControl.com, a leader in video music education, is the brainchild of Philadelphia guitarist Claude Johnson. Since 2004, it has offered online and DVD guitar lessons taught by experts in styles ranging from rock and metal to jazz and country to classical and fingerstyle acoustic, as well as courses for singers, drums, bass and keyboard, and music software, song collections and jam tracks.