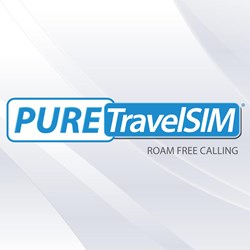 Our ongoing commitment to building long-term relationships with our customers by providing best in class service shows with the introduction of Pure TravelSIM
New York, NY (PRWEB) October 11, 2013
Pure Minutes is proud to announce Pure TravelSIM a new way to save money on calling when traveling internationally. Pure TravelSIM is a revolutionary GSM SIM card packed with features including the ability to receive faxes, MMS, Data, Call Forwarding and a Personal Assistant. Pure TravelSIM gives customers peace of mind in being able to use their own phones when overseas while saving up to 85% on all outgoing calls while abroad with incoming calls in over 135 countries absolutely free.
Keeping in contact with family and friends while overseas can be expensive especially on vacations or study abroad programs. Pure TravelSIM is a feature rich alternative to rental phones that offers exceptional service at reasonable rates. In development for years we've listened to feedback from millions of customers about which features mean the most to them when overseas and the results of those suggestions is evident in our product.
Pure TravelSIM eliminates the maintenance fees, never expires, and is completely prepaid meaning users will never be surprised with nasty overages. With Pure TravelSIM users simply dial an international number from their phones and allow us to seamlessly connect the call through our partner networks ensuring superior call quality at the lowest rates anywhere around the world.
Users who choose Pure TravelSIM can access features such as data and mms along with innovative services such as call redirection, fax retrieval, and personal assistant service. Call redirection gives customers the ability to redirect all incoming calls sent to your Pure TravelSIM number to any international number. Fax retrieval allows users to retrieve faxes on the go with all faxes directed to the Pure TravelSIM number being converted to PDF and sent directly to email. Customers come first, and we know how to treat our customers. The Pure TravelSIM personal assistant service number is there for our customers seeking concierge services, business services, medical services, assistance in emergency situations or interpretation help.
The dedication to quality is what keeps Pure TravelSIM an industry leader in the telecommunications field. "Our ongoing commitment to building long-term relationships with our customers by providing best in class service shows with the introduction of Pure TravelSIM" shared Eric Ramos, President of Pure Minutes. Fred Leon, senior account executive added "It is important to us that our customers can always stay in touch with family with our signature brand of affordable and high-quality range of products." Best of all there are no obligations or contracts to sign.
About Pure TravelSIM
Pure TravelSIM (link) is a product of Pure Minutes a leading provider of prepaid international long-distance calling solutions. We provide an affordable communication solution that offers flexibility, portability and ease-of-use for both landline and mobile users. Pure Minutes offers competitive international calling worldwide with no hidden fees, no maintenance fees, no contract required, and minutes that never expire. Pure Minutes service is sold on the web and through regional and national retailers including Intermex Wire Transfers, MoneyGram, La Nacional and payXchange and is available to customers worldwide in English and in Spanish and accepts payments through all major credit cards and Paypal.
Follow us on Twitter (@PUREMinutes), Facebook (facebook.com/PUREMinutes), and LinkedIn (PUREMinutes, LLC) for up to the minute updates.