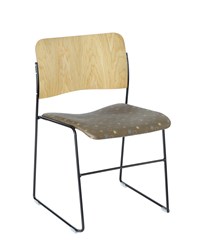 "Our new line of chairs provides us an entry into new markets that strengthen our business offering." - Aaron Rubner, VP of Sales
Dallas, TX (PRWEB) October 15, 2013
AVTEQ, Inc., the leading provider of AV furniture, announced today that it has expanded its award-winning product line to include the new TeamFlex stackable chairs. The TeamFlex chair line launches the company into the versatile seating market.
AVTEQ's new TeamFlex chairs are one of the best high-density, stackable chairs on the market. You can easily stack up to 40 TeamFlex chairs quickly and efficiently to a height of just four feet, making this the perfect chair for mobility at any location.
"We are excited to finally offer a line of seating options for our customers," stated Aaron Rubner, vice president of sales for AVTEQ. "Our new TeamFlex chairs give our existing customers a reliable and durable seating option. In addition, our new line of chairs provides us an entry into new markets that strengthen our business offering."
The TeamFlex chairs are versatile, allowing you to link them together to create rows of seating, or arrange them to fit any corporate office or lunchroom, conference room, waiting room, classroom, or auditorium. The chairs are available in metal, wood or upholstered seats and backs, and in a variety of colors and finishes all built on a solid steel frame. The chair design makes the TeamFlex series one of the most comfortable stackable chairs available.
MEDIA CONTACT:
Karen Cook, Marketing Director
AVTEQ, Inc.
1-800-285-8315
avteq.net
About AVTEQ, Inc.
AVTEQ, Inc., located in Dallas, Texas, is the largest manufacturer of videoconferencing carts in the A/V furniture industry. The company is regarded for cost-efficient, all-inclusive products that do not require accessories and upgrades to be practical and efficient. AVTEQ has become the preferred choice of hundreds of Global 1000 and Fortune 500 clients because of unmatched quality, service and product innovation. It stocks a full line of A/V and digital signage support products, as well as custom develops and designs solutions for unique videoconferencing, business, and retail applications. AVTEQ is an 8(a) woman-owned, HUBZone certified firm and holds several GSA contracts, which allows the manufacturer's videoconferencing cart and mount products, as well as furniture, to be sold to federal buyers.