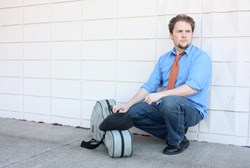 "Much of what I love in music I first discovered in JSQ recordings, and so I take this commission very seriously."- Jesse Jones
Carmel, California (PRWEB) October 13, 2013
Composer Jesse Jones is a fan of the Juilliard String Quartet. And apparently the feeling is mutual as Jones' latest work, String Quartet No. 3, "Whereof man cannot speak..." was commissioned by the quartet specifically for inclusion in their 2013/14 season performances.
"I am thrilled and honored to compose a piece for the Juilliard String Quartet," says the 35-year old Jones. "The depth of their knowledge and devotion to music, old and new, as well as the intent, urgency, and authority with which they play it, has inspired me since my youth. Much of what I love in music I first discovered in JSQ recordings, and so I take this commission very seriously."
Chamber Music Monterey Bay's audience will get a chance to hear Jones' work in the October 26th opening concert of their 47th season. The performance by the Juilliard String Quartet will be the West Coast première of the commission. Including newer works in its programming is a reflection of one of CMMB's core values: that exposure to new music is important to the evolution of chamber music as a living art form. The Juilliard's program will also include Haydn's Quartet in G Major, Op. 33, No. 5, 'How do you do' from the Russian quartets, and Beethoven's Quartet in C Major, Op. 59, No. 3 from his Eroica period. The 2013/14 season marks the inaugural season with the Quartet for incoming violist Roger Tapping, formerly of the Takács Quartet (1995-2005).
Jones, who is also a conductor and mandolinist, is an artist of wide-ranging tastes and influences. His work has been performed throughout North America, Europe and Asia, and has been recognized with multiple awards and fellowships, most recently receiving the Elliott Carter Rome Prize in Composition from the American Academy in Rome. Learn more at http://www.jessejonescomposer.com.
The October 26th concert is sponsored by KAZU 90.3 FM and will be broadcast on KUSP 88.9 FM on November 22, 2013 at 8:00 PM.
For more information on the October 26th concert in Carmel, California, visit http://www.chambermusicmontereybay.org or call 831.625.2212.