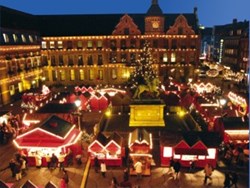 Düsseldorf's Christmas Market is a new travel experience for international visitors.
Düsseldorf, Germany (PRWEB) October 15, 2013
A different spin on a classic Germany holiday tradition makes a visit to Düsseldorf's Christmas Market a new travel experience for international visitors. Not just one but numerous different theme markets await visitors in Düsseldorf's Old Town, from November 21 – December 23, 2013.
For four weeks, the Old Town's excellent shopping and sight-seeing options are multiplied when the interconnected markets line the beautiful historic center – already a major visitor magnet all year long due to the more than 260 bars and pubs located in under a square mile (the "Longest Bar in the World"), and one of Europe's best high-end shopping boulevard "Königsallee." The highly anticipated extension of Königsalle, called "Kö-Bogen" (short for new "Königsallee Arch"), is a new highlighted market location.
The innovative experience takes visitors through several separate Christmas villages, each featuring a different theme, design, vendors, and attractions. Themes include:
"Angel's Market," with angels and thousands of lights turning the area into a sea of light at the Heinrich-Heine Square.
Booths that are replicas of Düsseldorf's historic town houses can be found on Flinger Strasse. This part is also the location of the famous "mulled wine pyramide."
The courtyard of the Wilhelm-Marx House is the site of the "Star Market." Starry lights and sparkling crystals create yet another unique and enchanted winter wonderland and holiday mood.
The Königsallee Arch – the new Libeskind-designed shopping and architectural sensation – is the site of a new "Christmas Village," reminiscent of snow-covered Scandinavian houses.
Other attractions include a skating rink surrounded by rustic huts with culinary holiday treats to keep visitors warm, such as a Raclette station; and an area for artisan gifts and foods on another major shopping street, "Schadowstrasse." Visitors can also enjoy a new nearby city attraction, the "Wheel of Vision," a temporary 180-foot ferris wheel on the castle square.
The different formula for the city's historic Christmas Market has been attracting hundreds of thousands more to Düsseldorf each holiday season since it was introduced several years ago, including many international visitors from the US and Russia, as well as nearby Belgium, Netherlands, France, and England.
Visitors during the holiday season can add overnight stays for extended shopping and sightseeing, taking advantage of special Christmas Market hotel packages available through the city's tourism website at http://www.duesseldorf-tourismus.de/en/hotel-packages/heavenly-bargains-for-the-christmas-season/. Specials are offered for stays between November 24 and December 23, 2013, and start at € 59 per person per double room and € 88 for a single room. All packages include breakfast, a Düsseldorf Welcome Card (free public transportation within city limits plus 30 free or reduced admissions to city attractions), a MERIAN city guide, and a city information package.
A guided walking tour of the market is also available on all Fridays and Saturdays at 4:00 p.m. – a two-hour event called "Advent, Advent." More information at http://www.duesseldorf-tourismus.de/en/public-guided-tours/christmas-tour/.
The market is open November 21 – December 23, 2013. On Sunday, December 15, the stores in the city center stay open from 1:00 – 6:00 p.m. for even more holiday market shopping opportunities. The market is closed on November 24, a holiday. For more information on Düsseldorf's Christmas Market, visit http://www.duesseldorf-tourismus.de/weihnachtsmarkt.
For more information on the destination Düsseldorf, visit http://www.visitduesseldorf.de/en.
###
Düsseldorf Marketing & Tourism GmbH is the visitors and convention bureau of the city of Düsseldorf. Its responsibilities include tourism and city marketing, as well as conference and meeting marketing, hotel reservation services, fairs and convention services, city event ticket sales and advance ticket reservations. For more information, visit http://www.visitduesseldorf.de.
Düsseldorf Airport, Germany's Next Generation HubTM, offers several non-stop flights from US & Canadian cities (Atlanta, Chicago, Ft. Myers, Los Angeles, Miami, New York, Newark, Toronto), as well as convenient connections to many European cities. For more information about the airport, visit http://www.fly2dus.com.