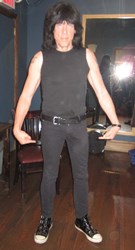 Los Angeles, California (PRWEB) October 14, 2013
On his current tour with his new band, "Marky Ramone's Blitzkreig", he gave a glowing testimonial that Robin's Skinny jean in black stretch poplin are his favorite pair to wear while performing. Marky posed for a photo backstage and there's another of him playing drums onstage with front man, Andrew WK. The band is currently on tour in North America.
Robin's Jean features a unique collection of jeans, jackets, tops, hats and belts for men and women designed by Robin Chretien. Represented by the gold wings logo, Robin's Jean captures Robin's childhood dream of freedom and flight. Robin arrived in Los Angeles in 1996 and by 2005, he decided to incorporate his passions for designing clothes, riding motorcycles and vintage cars with his fascination of Native American Indians to create his own line, Robin's Jean.
Robin's Jean is Made in the USA and there are currently four Robin's Jean Flagship store locations; Beverly Hills, CA; Soho, New York; Laguna Beach, CA; and Ibiza, Spain, and more to come!