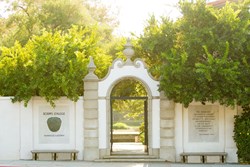 Claremont, Calif. (PRWEB) October 14, 2013
Myrlie Evers-Williams, acclaimed author, civil rights advocate and widow of slain activist Medgar Evers, discusses "Fighting for Equality: The Interconnected Struggle" on Nov. 7 at 7:30 p.m. in Garrison Theater of Scripps College's Performing Arts Center. This event is free and open to the public.
Evers-Williams brings a legacy of leadership to her talk. She was the vice president for advertising and publicity at the New York-based advertising firm Seligman and Lapz and also served as the national director for community affairs for ARCO, where she led the company's engagement in community projects, outreach programs, public and private partnership programs and staff development. Later, she was the first African-American woman to serve as the Commissioner on the Board of Public Works for the city of Los Angeles. She has received many honors for her lifetime of work, including the NAACP Spingarn Medal, the National Freedom Award from the National Civil Rights Museum in Memphis, Tenn. and seven honorary doctorates. She was also named Ms. magazine's "Woman of the Year" and one of Ebony magazine's "100 Most Fascinating Black Women of the 20th Century". She also served as chairwoman of the NAACP from 1995 to 1998. In January, she delivered the invocation at the second ceremonial inauguration of President Barack Obama.
She authored "For Us, the Living" (University Press of Mississippi: 1996) and "Watch Me Fly: What I Learned on the Way to Becoming the Woman I Was Meant to Be" (Little, Brown and Company: 1999). Evers-Williams visits Scripps College as the Roxanne Wilson Leader-in-Residence. Established in 2009 to honor Wilson, the former chairwoman of the Scripps College Board of Trustees and a graduate of the class of 1976, this program brings to campus women who have demonstrated leadership in their professional life and community service.
Evers-Williams embodies these attributes with her tireless civil rights advocacy, her leadership in both the private and nonprofit sectors and her commitment to educating future generations of leaders. In addition to her public lecture, students will have the opportunity for meaningful interactions with the Leader-in-Residence to learn from her experiences and benefit from her wisdom.
Scripps College was founded in 1926 by Ellen Browning Scripps, a pioneering philanthropist and influential figure in the worlds of education, publishing, and women's rights. Today, Scripps is a nationally top-ranked liberal arts college and women's college with approximately 950 students, and is a member of The Claremont Colleges in Southern California. The mission of Scripps College is to educate women to develop their intellects and talents through active participation in a community of scholars, so that as graduates they may contribute to society through public and private lives of leadership, service, integrity, and creativity.