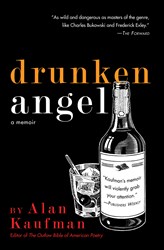 (PRWEB) October 12, 2013
Alan Kaufman, outlaw poet and author of the recent memoir Drunken Angel, will be reading at San Francisco's Litquake event "Writers Who Paint / Drawers Who Write."
Alan Kaufman will be appearing tomorrow at Writers Who Paint / Drawers Who Write, which is a part of the opening weekend of San Francisco's annual Litquake literary festival. He will be joining other artist/writers Don Asmussen, Lisa Brown, Nancy Calef, Jack Hirschman, Paul Madonna, and Shannon Wheeler for this gallery exhibit and reading at The Emerald Tablet in the north beach area of San Francisco at 7:30pm. Attendees are in for a unique evening of literature, cartoon musings, relational line drawings, and social satire in oil and acrylic.
October 12, 2013—7:30 PM
The Emerald Tablet
80 Fresno St., San Francisco, CA
Free
Kate Hopper, writing teacher, and author of the Viva Editions book Use Your Words: A Writing Guide for Mothers, will be reading at Litquake's event "Motherhood: The Good, The Bad, and The Untidy" as part of the annual Women's Night.
Litquake's annual Women's Night focuses on the topic of mothers and motherhood. We all have moms; some of us become them, while others say "no thanks" to motherhood. From literary fiction to humorous nonfiction, this event offers readings from across the spectrum. Featuring stories about death, premature birth, mothers from hell, rebellion against cultural and maternal norms, and, finally, opting out of motherhood completely, this reading will have something for everyone.
October 18, 2013 - 6:00 PM
Hotel Rex
562 Sutter St.
$10 advance/$12 at door